2 Nov 2019, 8:19pm
benefit concerts benefit concerts environment music Uncategorized: 350 activism benefit concert Better Future Project climate change Indian music Jazz khyal Middle-Eastern music music Raga violin
by
Administrator
9 comments
Meta
---
The twentieth "Playing For The Planet" benefit concert showcases master musicians from three different musical traditions, in a benefit for the environmental advocacy group 350MA.org.
Featured performers include the cross-cultural violin master Beth Bahia Cohen, the Hindustani singing of Warren Senders, and the intimate jazz improvisations of Stan Strickland & Josh Rosen.
---
The music begins at 7:00 pm, at The Community Church Of Boston, 565 Boylston Street (Copley Square), Boston. Admission is $20; $15 students & seniors. For information, please call 781-330-8032, find us on our Facebook event page, or visit the event website at www.warrensenders.com.
---
Online ticket purchasing is available through Eventbrite.
---
About The Artists
Pianist/percussionist Josh Rosen and saxophonist/flautist/vocalist Stan Strickland are two of New England's most loved and respected jazz musicians. They have been performing together since 2007, creating a intimate, spontaneous music that showcases their deep rapport with one another and with their listeners.
"Finishing each other's thoughts and phrases as these tunes wend their way from churchy soul-jazz to more abstract precincts, Rosen and Strickland are more than just in sync — they often sound like a single musician playing two instruments." – Boston Herald
"With the soul of an improv jam session, these two are one of the tastiest new treats to come along in a while." – Midwest Record
---
Beth Bahia Cohen is of Syrian Jewish and Russian Jewish descent and has spent many years exploring the ways the violin and other bowed string instruments are played in Greece, Turkey, Hungary, and the Middle East. She plays several Greek lyras, the Turkish bowed tanbur and kabak kemane, the Egyptian rababa, the Norwegian hardanger fiddle, and more. She was a Radcliffe Bunting Fellow and has been the recipient of many travel and research grants, including an NEA/Artists International grant to study the classical music of Turkey.

In addition to performing throughout the U.S., she teaches workshops and ensembles on Middle Eastern, Eastern European, Greek and Turkish music in conservatories and universities throughout the U.S as well as teaching privately in her studio in Watertown. She performs solo concerts of traditional and original music on various bowed string instruments from many countries (The Art of the Bow), as well as concerts exploring traditional Jewish music from all over the world.
---
One of the world's great improvisational song forms is khyal, the richly ornamented classical singing of North Indian tradition. Accompanied by the harmonium of Kaavya Velivati and the tabla of Harsha Hampapura, Warren Senders weaves a hypnotic tapestry of sound in his renditions of traditional ragas.
Acclaimed as the foremost non-Indian performer of this beautiful idiom, Senders lived in India for many years, learning the khyal style from master teacher Pt. S.G. Devasthali. He has performed throughout the world, enrapturing audiences and critics with a unique combination of authenticity and originality.

---
Online ticket purchasing is available through Eventbrite.
---
About 350MA and 350.org
Co-founded by environmentalist and author Bill McKibben, 350.org is the hub of a worldwide network of over two hundred environmental organizations, all with a common target: persuading the world's countries to unite in an effort to reduce global levels of atmospheric carbon dioxide to 350 parts per million or less. Climatologist Dr. James Hansen says, "If humanity wishes to preserve a planet similar to that on which civilization developed and to which life on Earth is adapted, paleoclimate evidence and ongoing climate change suggest that CO2 will need to be reduced from its current 400 ppm to at most 350 ppm." (Dr. Hansen headed the NASA Institute for Space Studies in New York City, and is best known for his testimony on climate change to congressional committees in the 1980s that helped raise broad awareness of the global warming issue.) Activists involved in the 350 movement include Rajendra Pachauri (Chairman, Intergovernmental Panel on Climate Change), Vandana Shiva (world-renowned environmental leader and thinker), Archbishop Desmond Tutu (1984 winner of the Nobel Peace Prize and a global activist on issues pertaining to democracy, freedom and human rights), Van Jones, Bianca Jagger, Barbara Kingsolver and many more.
350MA.org is the Massachusetts Chapter of this worldwide advocacy group, and the hub for the Better Future Project.
---
About The Community Church Of Boston
The Community Church of Boston is a free community united for the study and practice of universal religion, seeking to apply ethical ideals to individual life and the democratic and cooperative principle to all forms of social and economic life. We invite you to join us one Sunday for a thought-provoking and joyful time, or contact the church to find out more: info@communitychurchofboston.org
28 Oct 2013, 9:54am
India Indian music music Personal vocalists Warren's music: concerts khyal Raga
by
Warren
leave a comment
Meta
Ragas Purvi, Nayaki Kanada, Khamaj (Tappa-ang thumri), and a Sindhi lok-geet — all performed in what appeared to be the world's largest shower stall. With Mukta Raste – tabla, and Ravindra Lomate – harmonium. Thanks to Nandu Dhaneshwar and Neela Bhagwat for arranging this program at Shivaji Park Nagarik Sangh.
Music videos are below the fold:
27 Oct 2013, 11:01pm
India Indian music music Personal vocalists Warren's music: concert khyal Raga
by
Warren
leave a comment
Meta
Toronto, June 20, 2013. Ragas Kamod, Nayaki Kanada, Pahadi, Bhairavi. With Ravi Naimpally on tabla and Raya Bidaye on harmonium, performing under the auspices of Toronto's Raga Mala society.
Music videos below the fold:
27 Oct 2013, 10:57pm
India Indian music music Personal Warren's music: concert mehfil Raga
by
Warren
leave a comment
Meta
A mehfil at a private residence in Pune, with Chaitanya Kunte on harmonium and Milind Pote on tabla. A dream team of accompanists, and made more special by the presence in the audience of Rajeev, Medha, and Eeshan Devasthali. A lovely evening.
Here are ragas Chhayanat, Bihagada, Jayant Kanada, Khamaj, Gorakh Kalyan and Bhairavi. There are some other short items which I haven't posted yet.
Music videos below the fold:
24 Jun 2011, 4:39pm
India Indian music music: genius Hindustani instrumentalists Raga
by
Warren
leave a comment
Meta
I'm gradually getting more of my collection of Hindustani 78 rpm records digitized and uploaded.
Here are two performances by the vichitra veena player Abdul Aziz Khan, of the ragas Darbari Kanada and Bageshri.
On both recordings the Ustad can be heard giving himself daad when he plays something nice. It's a fascinating look at the artist's mind in its relation to the listeners; he needed to have rasikas enjoying his music for it to have any meaning — and since it was just him and the tabla player in the room, he provided his own feedback as needed.
More to come. I have hundreds of these recordings and I plan on getting them all uploaded in the next year or so.
22 Jun 2010, 11:02am
environment India Indian music June 12 Action music Warren's music: Pahadi Puriya Raga
by
Warren
leave a comment
Meta
Here is my complete set from the "Singing For The Planet" concert. Priti Chakravarty – harmonium, Akshay Navaladi – tabla, Harriotte Hurie – tamboura.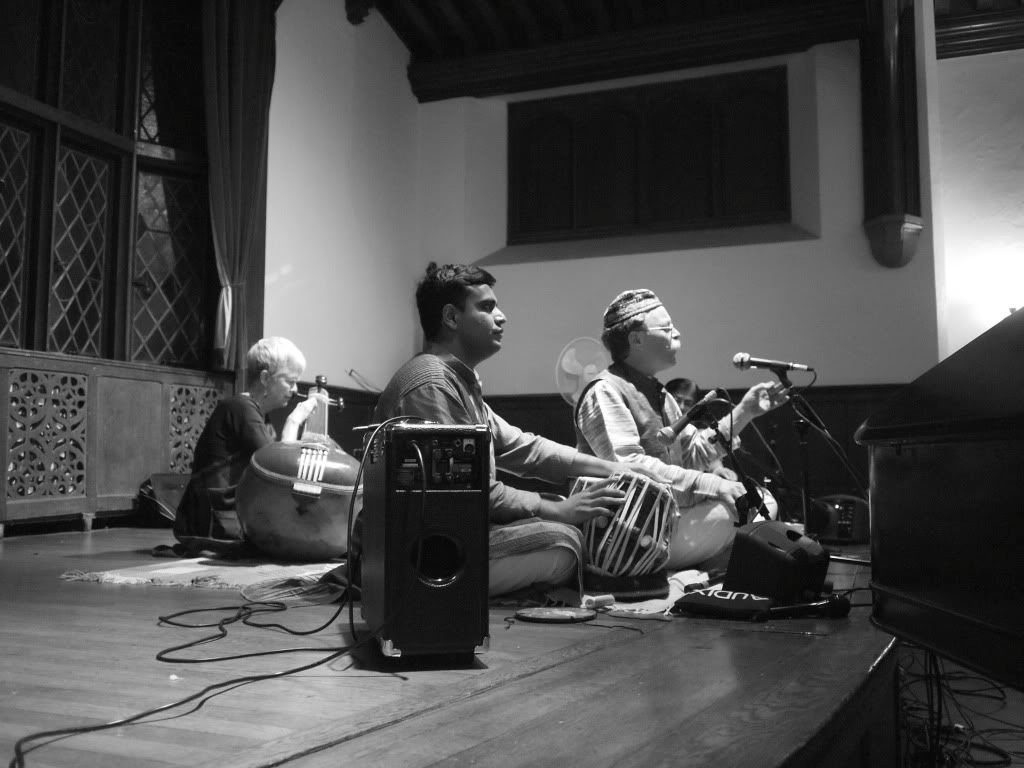 Raga Puriya – three-part khyal performance.


Vilambit Ektaal: Eri malaniyaa begi gunde laawori phulan ke harawa / Bela chameli gulab daru bane ke garawa (traditional composition)
Madhya Tintaal: Main to kaari aayi piya sanga rangaraliyaa / main vaari jaat pan ghat ke ghaat // Ek to dar mohe saas nananda ko / duje duraniyaa jaitaniyaa sataave / nisa din Prem Piya ki baat hai (composition by Ut. Faiyaaz Khan)
Drut Ektaal: tarana (composition by Pt. S.G. Devasthali)
Jyuda Kinjo Dolna ("How My Heart Sways") – Pahadi folksong
Jyuda kinjo dolna ho manda kinjo bolna / karle mane diyo mauja jinde // Harapur, Nurapur thandiyana chhavaa / maaya balocheda yaar balocheda, hai thaan thaan ho // Chhand mhara chadaiyaa pipari ne ohale / chhand mhara dole, chhand mhara bole, nai aan aan ho
23 Jan 2010, 3:17pm
Education Indian music music: paltas patterns permutations practice Raga riyaaz
by
Warren
9 comments
Meta
More of the material from my long-ago interview with my student Brian O'Neill. Here, I discuss the permutational practice routines known as Palta Exercises.
Hindustani musicians already know what I'm talking about. Western musicians will describe them as short phrases transposed up and down a scale: 123, 234, 345, 456, etc.
Paltas can be practiced within ragas, of course, but they are also useful for practicing ear-training and pattern manipulation inside scales.

To clarify the distinction: a palta in Raga Bhimpalasi would accommodate the omission of the second and sixth degrees in ascent, and the inclusion of these notes on the way down. Violating the raga's rules of motion is off the table. On the other hand, a palta in Kafi Thaat (the Dorian mode, if you will) would not have any such restrictions.

Here's a useful way to do paltas:

Pick a scale — any scale, preferably one that has 7 notes. Take a single short pattern (let's call it a "cell"), and transpose it up and down in the scale.

For example:

S N S / R S R / G R G / M G M / P M P / D P D / N D N / S N S
N D N / D P D / P M P / M G M / G R G / R S R / S N S

And once you've memorized it, then do another pattern.

S N D / R S N / G R S / M G R / P M G / D P M / N D P / S N D
S R G / N S R / D N S / P D N / M P D / G M P / R G M / S R G…

Again, do that for 10 minutes.

And then alternate the two patterns, one after the other. Do it all from memory.

Then combine the two patterns:

S N S / S N D
R S R / R S N
G R G / G R S
M G M /M G R
P M P / P M G
etc., over as much of a range as you feel comfortable singing or playing.

Then try combining the two in the other order:

S N D / S N S
R S N / R S R
G R S / G R G
M G R / M G M
P M G / P M P
etc.

Try doing two iterations of the first "cell" and one of the second:

S N S / S N S / S N D
R S R / R S R / R S N
G R G / G R G / G R S
etc.

Begin making up your own combinations of cell sequences, always using your memory to keep the material fresh in your mind's ear.

Try, instead of alternating cells, alternating successive notes of the two different cells. S N S / S N D thus becomes S S N N S D; S N D / S N S becomes S S N N D S.

Instrumentalists should be singing these patterns as well as playing them. It is also a very good exercise to sing while fingering them on your instrument (without activating it in any other way). This builds a powerful cognitive link between instrument and voice that pays off in future fluency and expressiveness.
29 Oct 2009, 12:19am
environment Indian music music October 24 Action Warren's music: Gorakh Kalyan khyal Raga
by
Warren
4 comments
Meta
When I first got the idea for the "Playing for the Planet" concert, I knew instantly that I wanted to sing these three compositions in Raga Gorakh Kalyan. I will update later on with the complete text and meaning; tonight I just want to get this posted before I go to sleep.