24 Jun 2011, 4:39pm
India Indian music music: genius Hindustani instrumentalists Raga
by
Warren
leave a comment
Meta
I'm gradually getting more of my collection of Hindustani 78 rpm records digitized and uploaded.
Here are two performances by the vichitra veena player Abdul Aziz Khan, of the ragas Darbari Kanada and Bageshri.
On both recordings the Ustad can be heard giving himself daad when he plays something nice. It's a fascinating look at the artist's mind in its relation to the listeners; he needed to have rasikas enjoying his music for it to have any meaning — and since it was just him and the tabla player in the room, he provided his own feedback as needed.
More to come. I have hundreds of these recordings and I plan on getting them all uploaded in the next year or so.
14 Feb 2010, 4:15pm
India Indian music music photoblogging: Amjad Ali Khan Hindustani instrumentalists Shahid Parvez Shivkumar Sharma Sultan Khan Zakir Hussain Zarin Daruwalla
by
Warren
leave a comment
Meta
As part of my continuing drive to provide visual, auditory and intellectual content, here is an assortment of the photographs I took of Hindustani instrumentalists during the 1980s. Zakir was performing a great deal in Pune during that time, and I got many good images of him.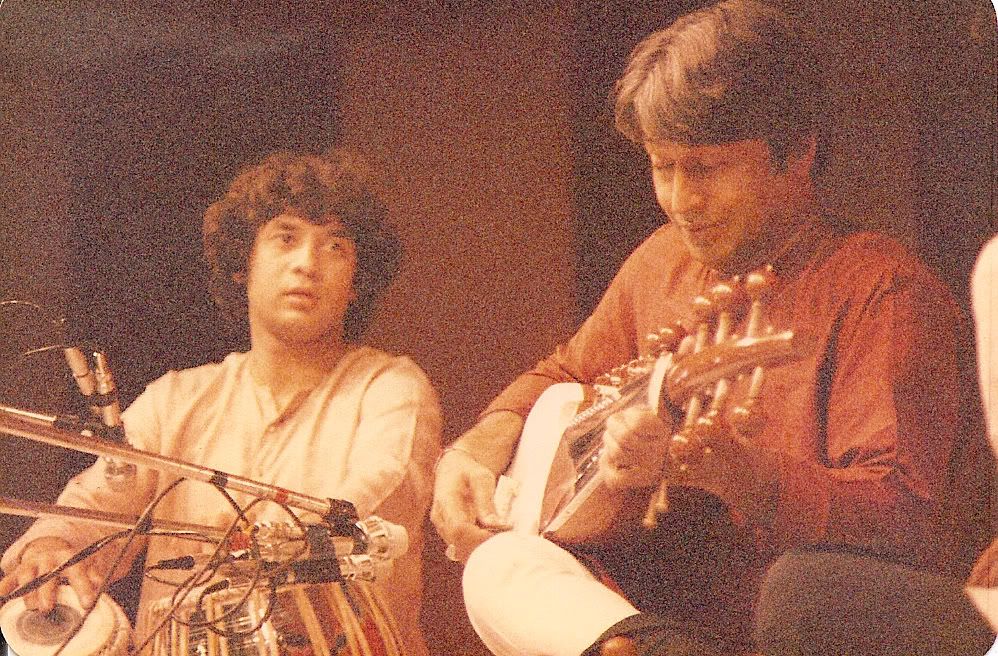 Amjad Ali Khan and Zakir Hussain. Sawai Gandharva Mahotsaav, Pune, 1985