24 Sep 2013, 9:40am
by
Warren
1 comment
Meta
On Saturday, November 2, the eighth "Playing For The Planet" benefit concert will showcase master musicians from three different musical traditions in a rare evening of pan-cultural improvisation, with all proceeds going to benefit the environmental advocacy group 350MA.org. The performers include classic swing music with The Matt Glaser Trio, Albanian flute virtuoso Geni Skendo and his Astronauts of Albania, and Indian classical music for sarod and tabla with George Ruckert & Amit Kavthekar. The music begins at 7:00 pm, at Emmanuel Church, 15 Newbury Street, Boston. Admission is $20; $15 students & seniors. For information, please call 781-396-0734, or visit the event website at www.warrensenders.com.
Purchase tickets online from CCNOW:

Regular admission: $20


Student/Senior Admission: $15

Advance Ticket Orders Are Accepted Until 3 pm on November 2. Tickets will be emailed directly to your inbox up to that time!
"Playing For The Planet: World Music Against Climate Change" is the eighth concert in an ongoing series of cross-cultural events produced by Boston-area musician and environmental activist Warren Senders (www.warrensenders.com). These concerts were conceived as a way for creative musicians to contribute to the urgent struggle against global warming. Their choice of beneficiary, 350MA.org, is focused on building global consensus on reduction of atmospheric CO2 levels — action which climatologists agree is necessary to avoid catastrophic outcomes.
Because the climate problem recognizes no national boundaries, the artists represent musical styles from three different parts of the globe, and share key musical values: listening, honesty, creativity, and respect. And, of course, they are all committed to raising awareness of the potentially devastating effects of global warming. It'll be an incredible evening of powerful music — from some of the finest musicians in New England and the world.
"…Senders possesses a gift for assembling fascinating programs."
— Andrew Gilbert, The Boston Globe —
"…pleasant surprises and
stimulation of the aesthetic synapses…
…an open-ended, floating, world music festival…"
— Steve Elman, ArtsFuse —
========================================================================
About The Artists
The Matt Glaser Trio
The Boston Herald says he's "possibly America's most versatile violinist." And for good reason: over the past three decades, Matt Glaser has performed and collaborated with countless greats in a huge variety of idioms — Stephane Grappelli, Ralph Stanley, Yo-Yo Ma, Bob Dylan, David Grisman, Lee Konitz, the Waverly Consort, Gunther Schuller, Fiddle Fever, and many more. He served as the chair of the string department at the Berklee College of Music for more than twenty-five years, and he's currently the founder and artistic director of Berklee's American Roots Music Program.
The author of four books on contemporary violin styles including "Jazz Violin" co-authored with the late Stephane Grappelli, Matt Glaser has performed at the White House, Carnegie Hall, and everywhere in the world as an exponent of the very best America's music has to offer. Featured on the Grammy-winning soundtrack for Ken Burns's 1990 The Civil War documentary and the soundtrack for the 1978 film King of the Gypsies, Matt served on the board of advisors for Ken Burns's 2001 Jazz documentary and appears as a narrator in the film. 

For "Playing for the Planet," he'll be presenting classic Swing tunes in an intimate trio format with guitarist Jon Wheatley (who has performed and recorded with Ruby Braff, Diana Krall, Alan Dawson, Mike Metheny and countless others) and bassist Britt Karlson.
========================================================================
George Ruckert &
Amit Kavthekar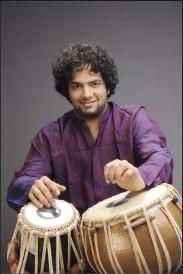 Performer, composer, arranger, author, and teacher, George Ruckert had already earned a master's degree in western music theory and composition when he was introduced in 1967 to the music of the legendary sarod master, Ustad Ali Akbar Khansahib, and made the decision to become a disciple of this great maestro.  As one of the senior-most disciples of Khansahib, he focused his attention on sarod and vocal music for forty years. After earning advanced degrees in Indian music in 1975, he served for many years as teacher and Director of the Ali Akbar College of Music near San Francisco, and earned a PhD in ethnomusicology from the University of California.  As a solo artist on the sarod, he has performed, recorded, and taught in India, Europe, and the United States, and is a published author of numerous articles and books about Indian classical music and artists.  A faculty member at MIT, he is frequently called upon to write articles about India's most prominent musical talents and liner notes for CDs as well.
Amit Kavthekar, a Ganda-Bandha Shagird of Ustad Allarakha, has rhythm running in his veins. He began his training with the legend at the early age of six. Since 1991, he was fortunate to be taught tabla intricacies by the internationaly acclaimed tabla master, Ustad Zakir Hussain. Amit had his basic training in tabla from Shri Ashok Godbole, at the Allarakha Institute of Music. From 1997 to 2003, Deepak Nerurkar, another brilliant tabla maestro, imparted his art to Amit.  Recently awarded the Taal Mani by Sur Singar Sansad, Amit is presently learning intricacies of Delhi Gharana from Guru Pandit Sudhir Mainkar. He has performed as a soloist and accompanist all over the world.
========================================================================
Geni Skendo and the Astronauts of Albania
The Boston Globe calls Geni Skendo a "virtuoso," who creates a unique blend of jazz, free jazz and world music.  Geni leads the Albanian/Jazz/Ambience  group "Astronauts of Albania" and the free improvised chamber music group, Samurai Jazz Trio, consisting of shakuhachi, bass/shamisen and piano. After a successful performing career in his native Albania, Geni moved to the US in 2003 to raise his jazz playing to a higher level.  Studies at the Berklee College of Music and The New England Conservatory (MM) led to a deep, ongoing involvement with the Boston music scene.  Geni performs with Mr. Ho's Orchestrotica (Best World Music Act, Boston Phoenix Readers' Poll, 2012), in both its quartet and big-band incarnations.  The quartet utilizes Geni's full palette, while the big band relies heavily on Geni's powerful bass flute in its recreation of long-lost arrangements by the legendary Mexican arranger Juan Garcia Esquivel.  Geni's most recent CD is "Acoustic Cowboy," featuring original compositions and new arrangements of songs from Olivier Messiaen, African pygmies and the Balkans.
Astronauts of Albania performs Albanian folk music arranged for Shakuhachi & Bass Flute, Oud, Guitar, Bass and Drums. The band's music seamlessly integrates complex Balkan grooves with free improvised sections, punctuating hypnotic textures with dazzling solo sections.
========================================================================
About 350.org
Co-founded by environmentalist and author Bill McKibben, 350.org is the hub of a worldwide network of over two hundred environmental organizations, all with a common target: persuading the world's countries to unite in an effort to reduce global levels of atmospheric carbon dioxide to 350 parts per million or less. Climatologist Dr. James Hansen says, "If humanity wishes to preserve a planet similar to that on which civilization developed and to which life on Earth is adapted, paleoclimate evidence and ongoing climate change suggest that CO2 will need to be reduced from its current 400 ppm to at most 350 ppm." (Dr. Hansen headed the NASA Institute for Space Studies in New York City, and is best known for his testimony on climate change to congressional committees in the 1980s that helped raise broad awareness of the global warming issue.) Activists involved in the 350 movement include Rajendra Pachauri (Chairman, Intergovernmental Panel on Climate Change), Vandana Shiva (world-renowned environmental leader and thinker), Archbishop Desmond Tutu (1984 winner of the Nobel Peace Prize and a global activist on issues pertaining to democracy, freedom and human rights), Van Jones, Bianca Jagger, Barbara Kingsolver and many more.
========================================================================