10 Jan 2010, 1:55pm
Indian music music photoblogging: Bhimsen Joshi Gangubai Hangal khyal Kumar Gandharva Malini Rajurkar Mallikarjun Mansur
by
Warren
1 comment
Meta
These were taken between 1985 and 1987, at various concerts in Pune, Mumbai, Miraj and Delhi. Enjoy:
Bhimsen Joshi: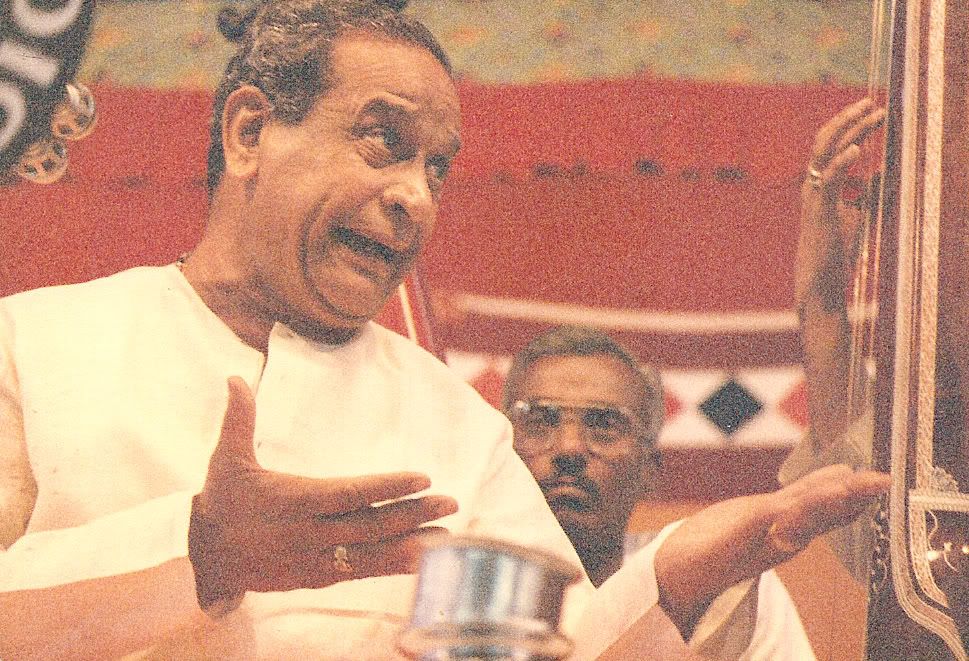 Sawai Gandharva Mahotsav, 1985. He was singing a beautiful Todi, "Changai nainawa" followed by "Langara kankariyaa jina maaro." Nana Muley on tabla, Purushottam Wallawalkar on harmonium.
27 Aug 2009, 7:31pm
Indian music music: Gangubai Hangal India Indian music khyal Kirana gharana musical history
by
Warren
7 comments
Meta
A tiny woman with a preternaturally deep voice, Gangubai Hangal achieved national fame in India as one of the greatest singers of the ornate improvisational artsong called khyal ("imagination" in Arabic). She died on Tuesday, July 21st, 2009, at a hospital near her home in Hubli, Karnataka State, India. She was ninety-seven years old and had given her last public concert two years before.
She overcame the dual barriers of caste and gender to become a nationally revered and respected artist. Her life was marked by rejection and sorrow, but her extraordinary voice and powerfully emotional singing brought her acclaim and international recognition.
Her story spans almost a century; her life as a professional performer lasted at least seventy-five years. Keep reading, and find out about Gandhari "Gangubai" Hangal, a woman who triumphed over tragedy to become one of the century's greatest voices.