22 Aug 2010, 10:32am
music Personal Warren's music: Antigravity String Band musical history
by
Warren
leave a comment
Meta
Around 1980, I worked out the fingering for a guitar arrangement of multiple parts of the Agbekor drum rhythms which I'd been studying with David Locke. The arrangement I came up with had the Totodzi part in the thumb, the Kagan part in the index finger, and the Gankogui (bell) part in the middle and ring fingers. I messed around with it for a while as a way of internalizing the relationship of the three parts, but never found a chordal structure that seemed satisfactory.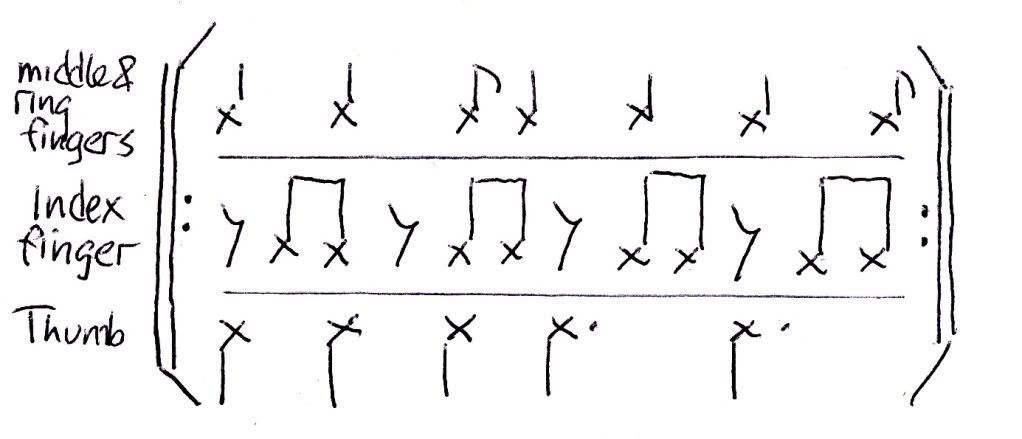 Then one day I was fiddling around with a DADF#AD open tuning, and discovered that the I-IV-I-V progression that manifested so often in group arrangements of Shona music (like Dumisani Maraire's marimba ensembles) fell naturally under the fingers.
There were some other people in the Agbekor ensemble at the time who played stringed instruments, including Dee Wood (known at the time as "Dogwood"), my brother Stefan, Michelle Kisliuk and Anne Goodwin, and we began experimenting together with multi-instrument versions of the piece. I shifted to bass, and it started to turn into something delightful. Soon after that, we added the fiddle playing of Eddie Parente (known at the time as "Skip"), and we did a few concerts together, presenting our version of the Agbekor rhythms/Shona harmony along with some other pieces we threw together. Skip was a wonderful violinist who brought a beautiful sound to the group, and I was sorry to see him move on after a few months; he got offered a fabulous gig with a major Irish band and would have been a fool not to take it.
Here are a few recordings from our first concert, in May of 1981 at Studio Red Top in downtown Boston. We put together a 45-minute set that included two "Shona-ized" Ghanaian dance rhythms, Dee Wood's nice arrangement of Abdullah Ibrahim's piano piece "Tokai," an Afghani melody called "Lover's Desire" that I learned from an old lp by the Human Arts Ensemble, and my original composition "Night Melody." The audience loved us. Loooooved us. That was rare for me; most of my performance ensembles were greeted with desultory applause and phrases like, "Gee, Warren, that was interesting."
But I digress.
We led off with "Lover's Desire." I had threaded paper through the strings of my bass to give a buzzing sound.
The African adaptation that started it all, which we called "Shona Agbekor." In rehearsal we would sometimes play this for an hour without stopping. Fun.
My original composition "Night Melody." The scale is that of raga Malkauns, but the ensemble organization was inspired by recordings of Sundanese music which I'd been enjoying.
Abdullah Ibrahim's "Tokai," in Dee Wood's beautiful arrangement — like a chorus of stringed instruments.
"Gahu" was the other African theme we developed…a real dance-party piece.
The band went through some personnel changes in the months after this concert, but continued to gig regularly for the next several years. I'll be posting more of those recordings in the weeks to come.
Enjoy.
29 Sep 2009, 12:03am
Indian music music: Anant Manohar Joshi Gwalior gharana Indian music khyal music musical history
by
Warren
leave a comment
Meta
Here are four short performances by Pandit Anant Manohar Joshi, also called "Antubuwa." Disciple of Balakrishnabua Ichalkaranjikar and "Bhugandharva" Ustad Rahmat Khan. Guru of Dr. S.N. Ratanjankar; father and guru of Pandit Gajananrao Joshi. Anant Manohar Joshi was born in Kinhai village, March 8, 1881. His father Manoharbuwa had learned classical styles from Raojibuwa Gogte of Ichalkaranji, and became a court musician at Aundh. He died when Anant was seven. Antubuwa became one of the top-most performers of traditional Gwalior style khyal, although he never achieved the fame of his guru-bhai, Vishnu Digambar Paluskar. "A powerful voice, daanedaar taans, and clear pronunciation of words characterised his rich and systematic style" according to Susheela Mishra ("Some Immortals of Hindustani Music"). He died in Bombay on September 12, 1967.
These short performances show Antubuwa at the end of his career. His voice is no longer flexible and his intonation is somewhat coarse, but the vigorous spirit remains.
27 Aug 2009, 7:31pm
Indian music music: Gangubai Hangal India Indian music khyal Kirana gharana musical history
by
Warren
7 comments
Meta
A tiny woman with a preternaturally deep voice, Gangubai Hangal achieved national fame in India as one of the greatest singers of the ornate improvisational artsong called khyal ("imagination" in Arabic). She died on Tuesday, July 21st, 2009, at a hospital near her home in Hubli, Karnataka State, India. She was ninety-seven years old and had given her last public concert two years before.
She overcame the dual barriers of caste and gender to become a nationally revered and respected artist. Her life was marked by rejection and sorrow, but her extraordinary voice and powerfully emotional singing brought her acclaim and international recognition.
Her story spans almost a century; her life as a professional performer lasted at least seventy-five years. Keep reading, and find out about Gandhari "Gangubai" Hangal, a woman who triumphed over tragedy to become one of the century's greatest voices.