13 Jul 2010, 11:10pm
India Indian music music: genius Gwalior gharana improvisation khyal Krishnarao Shankar Pandit
by
Warren
1 comment
Meta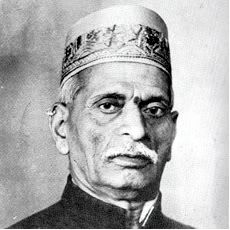 One of the greatest recorded performances of Hindustani music, this 30-minute gem comes from 1957, when Krishnarao Shankar Pandit was in his prime. The force and power of his improvisations are astonishing; there is nobody else in Hindustani tradition who can imagine some of the things he comes up with, let alone execute them with such verve and clarity.
Anokhey Lal, who was known for his brilliant and supportive theka, is accompanying on tabla. The violinist is not credited. Any thoughts?
Enjoy.
11 Oct 2009, 9:32pm
Indian music music: 78s Gwalior gharana khyal Ramakrishnabua Vaze
by
Warren
5 comments
Meta
One of the greatest voices of pre-Independence India, Pt. Ramakrishnabua Vaze was born in 1871:
…in a small village in Maharashtra…Vaze Bua lost his father soon after and was brought up by his mother. He studied for only a few years in school, his passion for music overtaking his interest in studies. With his mother's help, he spent the next few years, moving around, taking lessons in music from several teachers. He was twelve when he was summoned home to get married and take up his duties as a householder. The newly married Vaze felt it improper to depend upon his mother for financial support and decided to take off on foot, with no particular destination and only the pursuit of music on his in mind.
Link
Note that at age twelve, he decided it was improper to depend on his mother…so he presumably left his wife (who was presumably even younger) at home and went out a-wandering.
At the time, all roads led to Gwalior, where the young man eventually became a disciple of Ustad Nissar Hussain Khan (note: this is not the Nissar Hussain Khan of Rampur-Sahaswan fame). The typical spate of privations, indignities and unswerving dedication eventually led to a level of musicianship and artistry that continues to amaze and inspire.
"His performances were always lively and intellectually stimulating. His layakari was flawless , his taans had clarity and force and he would leave his audience spellbound. He was responsible for bringing many little known ragas to light and as a composer, his specialty was bandishes in fast tempo." Link
Here are a few of Vazebua's wonderful short recordings, made during the heyday of 78 rpm discs in India. I'll add more as I get around to it.
Enjoy!
29 Sep 2009, 12:03am
Indian music music: Anant Manohar Joshi Gwalior gharana Indian music khyal music musical history
by
Warren
leave a comment
Meta
Here are four short performances by Pandit Anant Manohar Joshi, also called "Antubuwa." Disciple of Balakrishnabua Ichalkaranjikar and "Bhugandharva" Ustad Rahmat Khan. Guru of Dr. S.N. Ratanjankar; father and guru of Pandit Gajananrao Joshi. Anant Manohar Joshi was born in Kinhai village, March 8, 1881. His father Manoharbuwa had learned classical styles from Raojibuwa Gogte of Ichalkaranji, and became a court musician at Aundh. He died when Anant was seven. Antubuwa became one of the top-most performers of traditional Gwalior style khyal, although he never achieved the fame of his guru-bhai, Vishnu Digambar Paluskar. "A powerful voice, daanedaar taans, and clear pronunciation of words characterised his rich and systematic style" according to Susheela Mishra ("Some Immortals of Hindustani Music"). He died in Bombay on September 12, 1967.
These short performances show Antubuwa at the end of his career. His voice is no longer flexible and his intonation is somewhat coarse, but the vigorous spirit remains.