19 Mar 2012, 12:31pm
India Indian music music Personal vocalists Warren's music: khyal pune
by
Warren
leave a comment
Meta
This concert was arranged by Chaitanya Kunte, the extraordinary musicologist, composer and harmonium virtuoso.
It was a pleasant and unusual experience to have two melodic accompanists — Chaitanyaji on harmonium and Eeshan Devasthali (my Guruji's grandson) on violin. Milind Pote provided the rock-solid and very sympathetic tabla sangat.
Ragas:
Shyam Kalyan
Puriya Dhanashri
Tilak Kamod
Kafi
Bhairavi
Here's the concert, embedded as a single playlist:
28 Jan 2010, 5:55pm
India photoblogging: pune
by
Warren
4 comments
Meta
I took a lot of pictures while wandering around Pune in the mid-1980s and early 90s. I was using a Minolta SLR which I still have somewhere in a box; digital cameras have now taken over completely, so I haven't looked through the lens of my 35mm camera in a very long time. Getting interesting results when you're photographing scenes on an Indian street is not difficult; Indian streets are inherently interesting. Here are some of my favorites.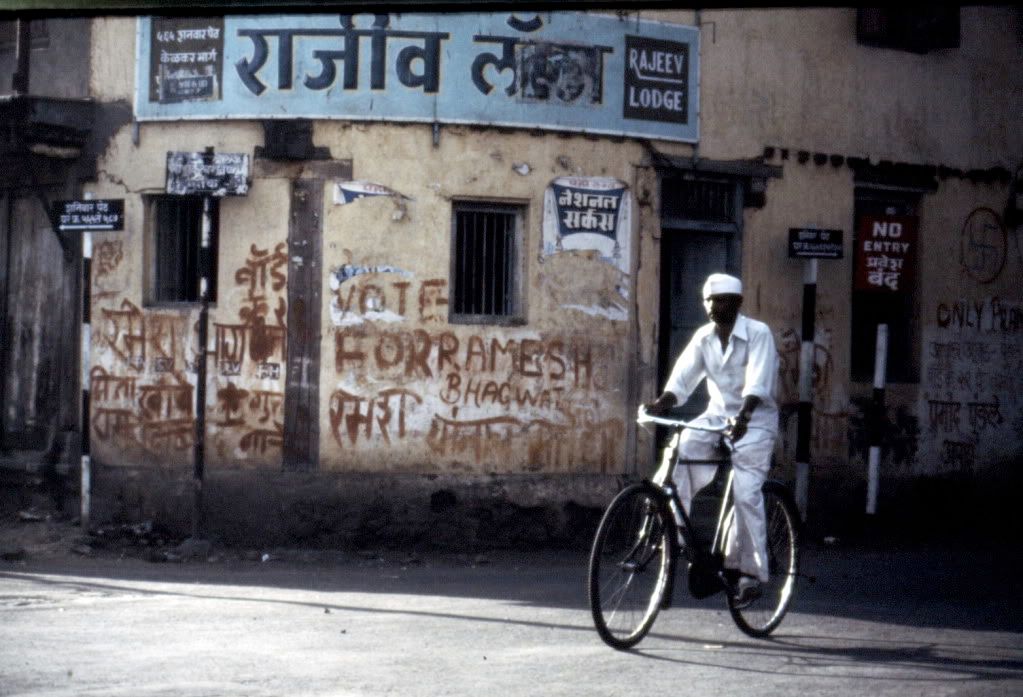 Somewhere in City section; I have a vague recollection this was in the vicinity of Appa Balwant Chowk, but that's probably just my senility kicking in.
Shukrawar Peth, most likely. Probably somewhere close to Phule Market.
more »
26 Jan 2010, 12:15pm
India photoblogging: juna bazaar pune street-level commerce
by
Warren
2 comments
Meta
Pune's weekly junk market. I rode past this bazaar all the time, and finally got around to spending a couple of hours there with a camera, sometime in early 1986. I have always loved the bustle of street-level commerce; this place epitomizes a wonderful mix of high event density (on a moment-to-moment level) with the calm sense that "we have been trading in other people's discarded objects for hundreds of years."
In 1988 I went there and bought a suitcase for my return trip to the US. It failed catastrophically, bursting all its seams, between Pune and Bombay, en route to the airport. Anticipating this, I'd bought a giant needle (4-5 inches long) and some string, and I sewed up the suitcase. It lasted until I arrived in New York, at which point I was able to borrow another piece of luggage for the trip to Boston. If this story has a moral, it's probably something like, "Don't buy shitty luggage."
If you like seeing these India Photoblogging posts, please let me know, and I'll do some more in days to come.