23 Jul 2011, 10:15am
India Indian music music: 78 rpm discs Dance genius
by
Warren
1 comment
Meta
Here is a very unusual item: four 3-minute performances of Kathak dance by the great Sitara Devi:
Sitara Devi (born early 1920s on a Diwali day) is an eminent Indian dancer of the classical Kathak style of dancing. When she was in her teens, Rabindranath Tagore, after watching a performance by her described her as Nritya Samragini, meaning, the empress of dance. The epithet continues, and she is still described as the Kathak queen.
Wiki
This rare boxed set was part of a group of 78s that were sent to me by a fellow collector.
Sitara Devi is among the great dancers of modern India. Born in Calcutta, she was trained in Kathak by her father Shri Sukhdev Maharaj Misra and by masters of Lucknow gharana including Achhan Maharaj, Lachhu Maharaj and Shambu Maharaj. She has combined the traditions of Banaras and Lucknow in her performance of Kathak.

An exhaustive treatment of the entire gamut of nritta, sometimes in different talas, interspersed with gats of lyrical beauty and compositions of dramatic intensity followed by moving renditions of thumris and Bhajans constitute the format of her hours long performances, characterized by an electrifying energy. In many ways she represents a lost era of complete Kathak performed all night with the accompaniment of masters of Tabla like Kanthe Maharaj, Samta Prasad and Kishan Maharaj.

Sitara Devi has danced extensively in India and abroad contributing to the popularization of the art. She has also been an actess and dancer in films since the silent era. In a class of her own, she continues to inspire her audience and fellow artists.

She has been honoured with the Sangeet Natak Akademi Award (1969) and the Padma Shri.
Moordhan Poornam & Trotakam

Parahang

Padakriya (Tatkar)

Tarana

28 Nov 2009, 12:35pm
Indian music October 24 Action photoblogging: Dance Indian dance photoblogging
by
Warren
leave a comment
Meta
Ganesh Ramachandran took these photographs of the Aparna Sindhoor Dance Theater during the "Playing for the Planet" concert. I think they're terrific.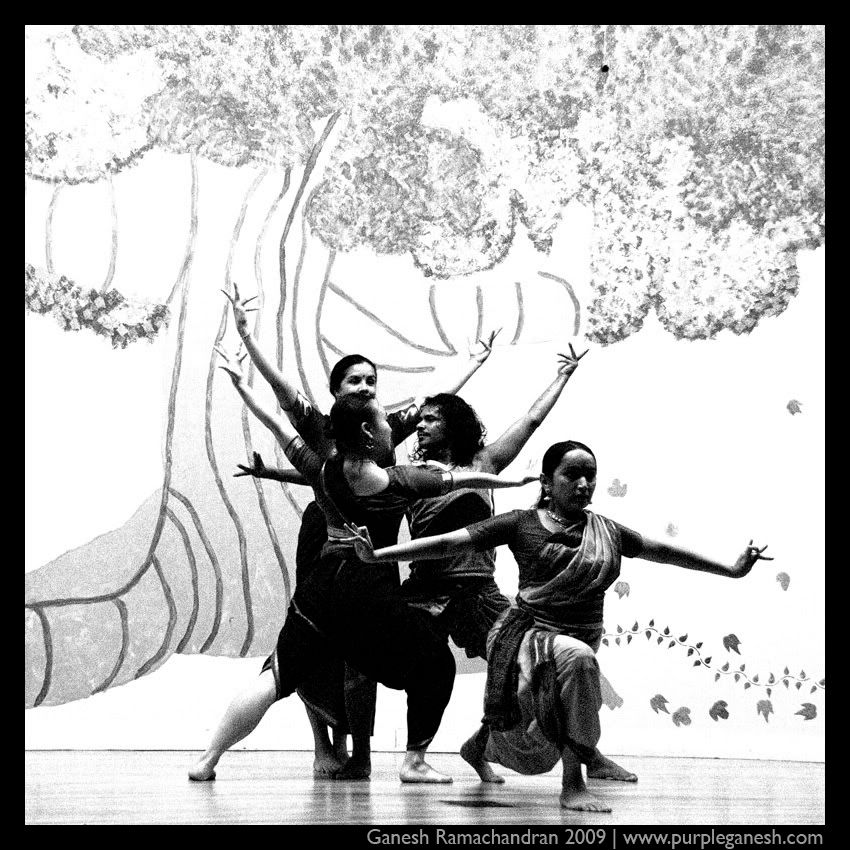 26 Oct 2009, 10:29am
environment Indian music October 24 Action: Dance Indian dance
by
Warren
1 comment
Meta
The fifth ensemble to perform (starting at around 9:20 pm) was the Aparna Sindhoor Dance Theater. The room lighting was wretched; even with the videocam on "nightshot" setting there was a lot of detail lost. But nevertheless, the power and genius of Aparna and her ensemble are evident in this video. This is a 25-minute excerpt from their long piece, "The Story and The Song," about a young woman who could turn herself into a flowering tree and the prince who fell in love with her. The fact that there was a giant painted tree as a backdrop was purely serendipitous.
Here are four photographs (courtesy Hadley Langosey) and video (courtesy the Sony Cam mounted on a tripod, on top of the piano in the back of the room.). The first few seconds of the introduction were lost, but the rest of the performance is intact.