24 Mar 2012, 11:53am
environment music November 11 Action: benefit concert genius
by
Warren
leave a comment
Meta
Eliot and Zaira delivered a marvelous set. What a pleasure to hear these great players!
Fandango of Joaguin Rodrigo
Violin Duets of Luciano Berio
Zaira Meneses performed two solo pieces:

Queca Chilena of Antonio Lauro

Cuban Landscape With Bells — Leo Brouwer
Eliot Fisk performed a set of solo pieces by Agustin Barrios:

The duo concluded with a set of Chopin Waltzes:
===========================================
This music was performed to benefit 350.org. Please consider donating some money to them if you have enjoyed listening. Just click on the photo.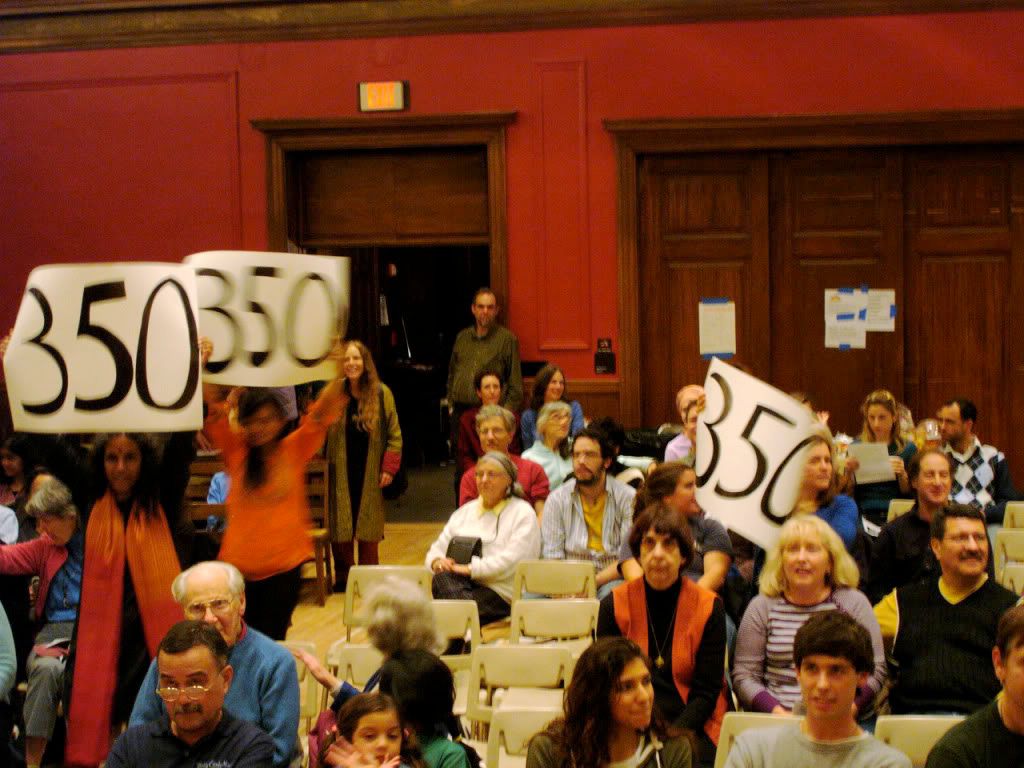 27 Feb 2012, 10:00am
environment India Indian music music November 11 Action: Carnatic music veena
by
Warren
leave a comment
Meta
I am finally getting it together to post the videos from last fall's Climate Concert. The sound from the video camera was cruddy, so I had to replace it with the recording from my digital recorder. This took more time than I had anticipated — no excuse, of course, but an explanation, anyway.
Here's Durga Krishnan's wonderful set, with Gaurishankar Chandrashekhar on mridangam.
Mahaganapathim Manasa Smarami – Raga – Nattai – Tala – Chathusra Ekam, Composer – Muthuswami Dikshitar
Steve Elman reviewed the concert in ArtsFuse, and wrote this:
Durga Krishnan's performance was a rich and satisfying introduction to the veena, perfectly assembled and marvelously executed. Her improvisations were structured as beautifully as Sonny Rollins saxophone solos, with motifs introduced casually, then brought back over and over for cumulative effect. And Gaurishankar Chandrashekar's mrindangam solo showed off some very impressive chops.
Link
Needu Charanamule – Raga Simhendra Madhyamam, Tala – Misra Chapu, Composer – St. Thyagaraja
The Boston Globe's Andrew Gilbert interviewed Durga before the concert and included her thoughts in his article:
Durga Krishnan, another tireless educator who has collaborated widely with jazz musicians, is also committed to working across genres. Performing in a duo with Gaurishankar Chandrashekhar, an expert on mridangam (a two-headed drum), she's presenting a set of heavily improvised Carnatic music on the veena, a plucked lute that plays an essential role in the classical South Indian tradition. Eager to participate in Playing for the Planet, she feels that environmental consciousness is inextricably linked to her music.

"I belong to the Hindu religion where we worship the five elements of nature as god,'' Krishnan says. "One of the pieces we'll be performing is from a group of compositions that are prayers to these five elements. There's a deep connection between the kind of music that I perform and nature. It's very important to do whatever we can.''
Raghuvamsasudha – Raga – Kathanakuthuhalam, Tala – Adi, Composer – Patnam Subramanya Iyer.
12 Nov 2011, 9:57pm
Indian music music November 11 Action Personal photoblogging: musicians
by
Warren
1 comment
Meta
We sold out the hall, and all the musicians played beautifully. Looks like we raised about $1200 for 350.org. (UPDATE: $1191, to be exact)
I'll post more photos and concert videos soon.
Standing, from left: Robert Labaree (Dünya), Mehmet Ali Sanlıkol (Dünya), Gaurishankar Chandrashekhar, Durga Krishnan, Zaira Meneses, Eliot Fisk. Kneeling in front: Warren Senders.