5 Aug 2011, 10:33am
India Indian music music vocalists: 78 rpm discs bhajan genius Marathi bhavgeet
by
Warren
9 comments
Meta
Miss Gohar of Bijapur sings two Marathi devotional songs. Her voice is terrific, her delivery heartfelt, her intonation spot-on, her melismatic technique top-notch. What's not to like?
Wikipedia notes that:
There were four singing contemporaries of Gauhar Jaan with first names pronounced the same way as hers and sometimes spelled in English in different ways:

– Gauhar Jan of Patiala;

– Miss Gohar, who was associated with Parsi Theatrical Company in Bombay (Mumbai);

– Gohar Mamajiwala, a singer actress who was associated with and mistress of Sardar Chandulal Shah of Ranjit Films (studio), Bombay; and

– Gohar Bai Karnataki of Bijapur.
I believe we are listening to the last-listed of these luminaries.
She was a fairly prominent name in Hindi Films in the '30s, acting, composing and singing songs, most/all of which were never released on 78s and are probably lost for ever. Her sister
Amirbai's name is far more famous and many brilliant songs sung by Amirbai are easily available today. Before her most prolific years in the '40s, Amirbai sometimes sang under the name 'Amir Jan'. Gauharbai's name appears as 'Gauhar of Bijapur' in the Hindi Film Geet Kosh pages. Gauhar was devoted to Bal Gandharva; BG left his family to live with her. There were whispers around 1950 that Gauhar, whom BG used to call 'Baba', had cast an evil spell on Narayanrao Bal Gandharva, whose surname was 'Rajhans'. The Gauhar
episode in BG's life has been treated at some length in Ravindra Pinge's beautiful article on BG, titled 'Chandraast' and included in the book 'TuShaar aaNi Taare'. Whatever manipulations she may have resorted to, even her detractors concede that her devotion to Bal Gandharva's style of singing was genuine. It is not surprising that many of her 78s are of Marathi songs sung in BG's style.
Link
Afaghaachi sansaar
Satata vimal bhaj nama

3 Aug 2011, 10:26am
India Indian music music vocalists: 78 rpm discs bhajan
by
Warren
1 comment
Meta
This "Shiv Lila Bhajan" in two parts was part of the collection acquired in Udaipur in 2000.
Enjoy.
11 Jul 2011, 10:06am
India Indian music music vocalists: 78 rpm discs bhajan falsetto genius
by
Warren
3 comments
Meta
Pyare Saheb was one of the most esteemed voices of turn-of-the-century Hindustani tradition. Singing always in a high falsetto, he recorded literally hundreds of 78 rpm discs and enjoyed high esteem amongst rasikas, especially for his sensitive handling of thumris. His music, alas, is now almost completely forgotten. Here are two samples of his singing — a popular devotional song (with some fabulous extemporized ornamental passages) and a beautiful rendition of the rarely heard raga Sorath.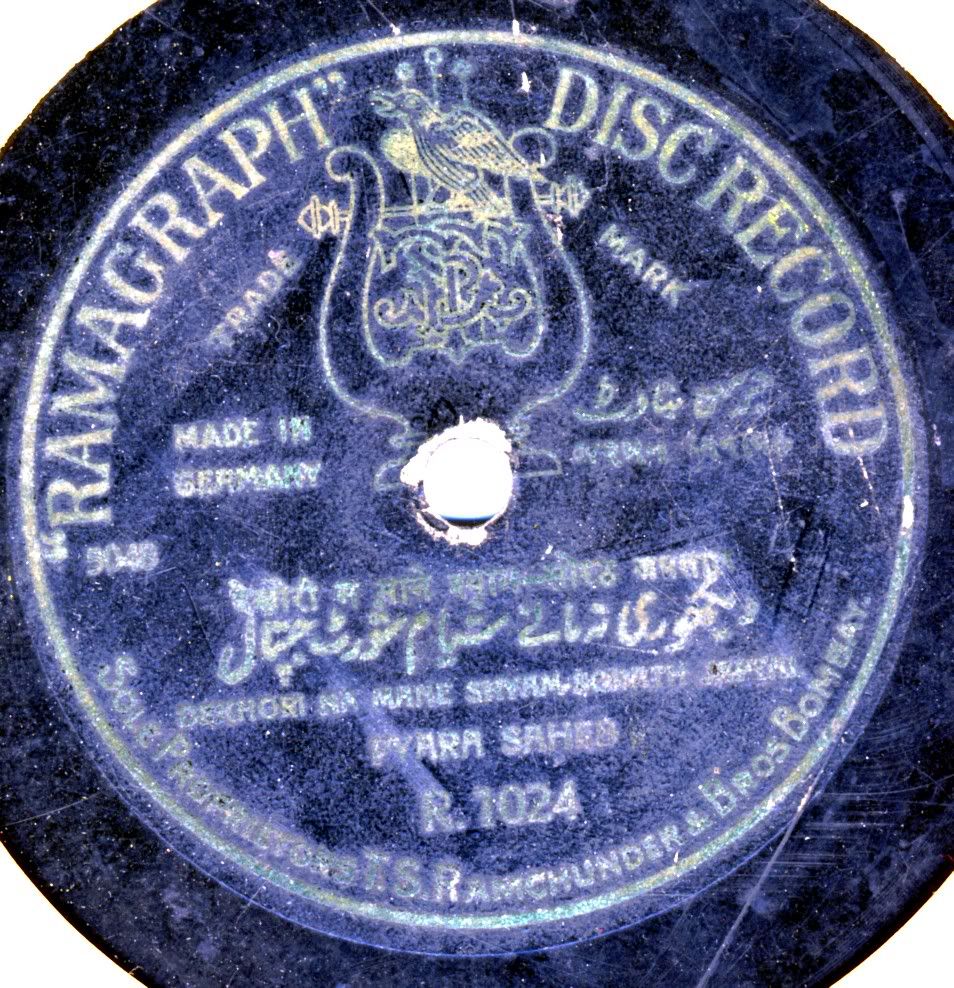 Bhajan: He Govind He Gopal
Raga Sorath: Dekhori na mane Shyam

3 Jul 2011, 5:46pm
India Indian music music vocalists: 78 rpm discs bhajan Marwari geet
by
Warren
1 comment
Meta
Gradually moving through my complete collection of 78 rpm discs on Marwari Records, we come to the duet team of M.L. Choudhury and Sunita Devi, who perform a long piece in two parts. This is identified as a "Shiv Lila Bhajan." I would welcome clarification of the nature of this music in the comments — any experts out there?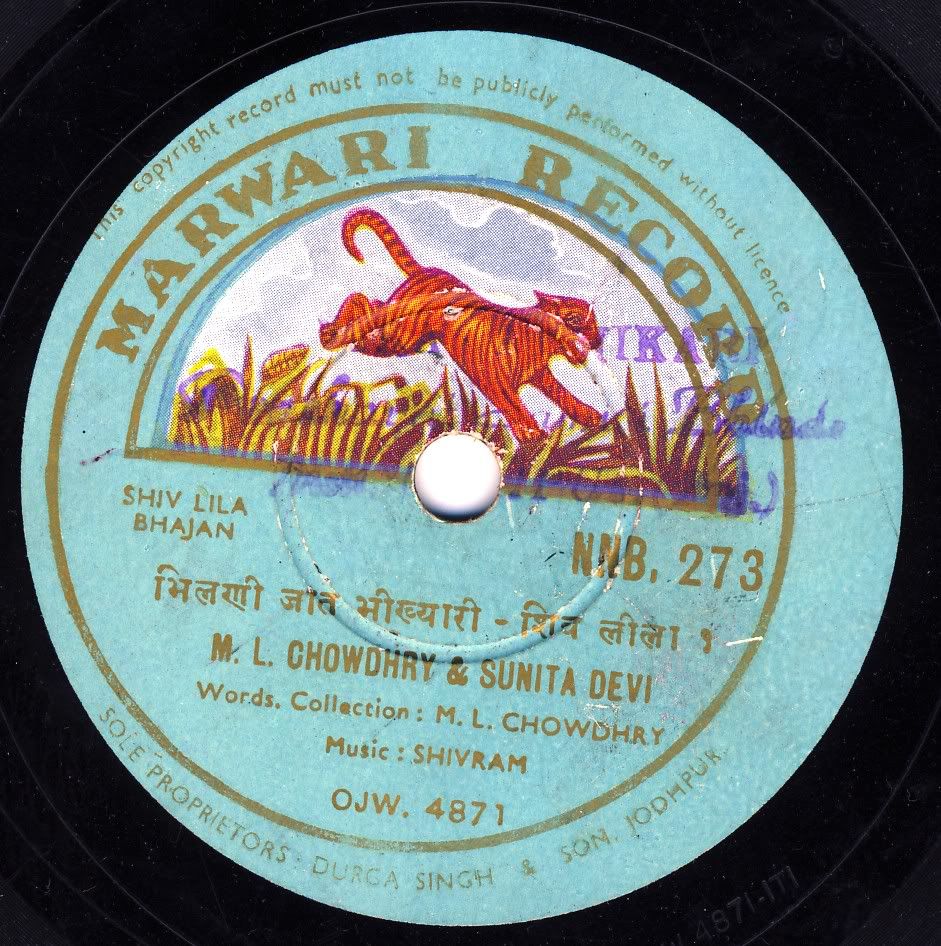 As always, I love, love, love that tiger!