31 Oct 2009, 1:15pm
music October 24 Action: Japan japanese music koto shakuhachi wabi-sabi
by
Warren
leave a comment
Meta
I have always been tremendously moved by the spare elegance of Japanese classical music. The modal environment triggers my affection for some of the popular Hindustani pentatonic ragas, while the rough edges, empty spaces and fantastically varied qualities of attack, sustain and decay force me into a more Cagean listening space.
This aesthetic of open space contrasts greatly with Indian music's demand for a continuously saturated surface; as a khyal singer I am always engaged in that supersaturation, and I love it…but at times I envy the sparse and evocative economy of Japanese melodic lines — so different, and yet so similar.
Need I point out that Japan (an island nation) is particularly vulnerable to the rising ocean levels which will be triggered by catastrophic climate change?
The music presented on Saturday night by Elizabeth Reian Bennett, Ayakano Cathleen Read and Charles Hughes was a beautiful glimpse into an ancient tradition rarely heard today. I am deeply grateful for their performance.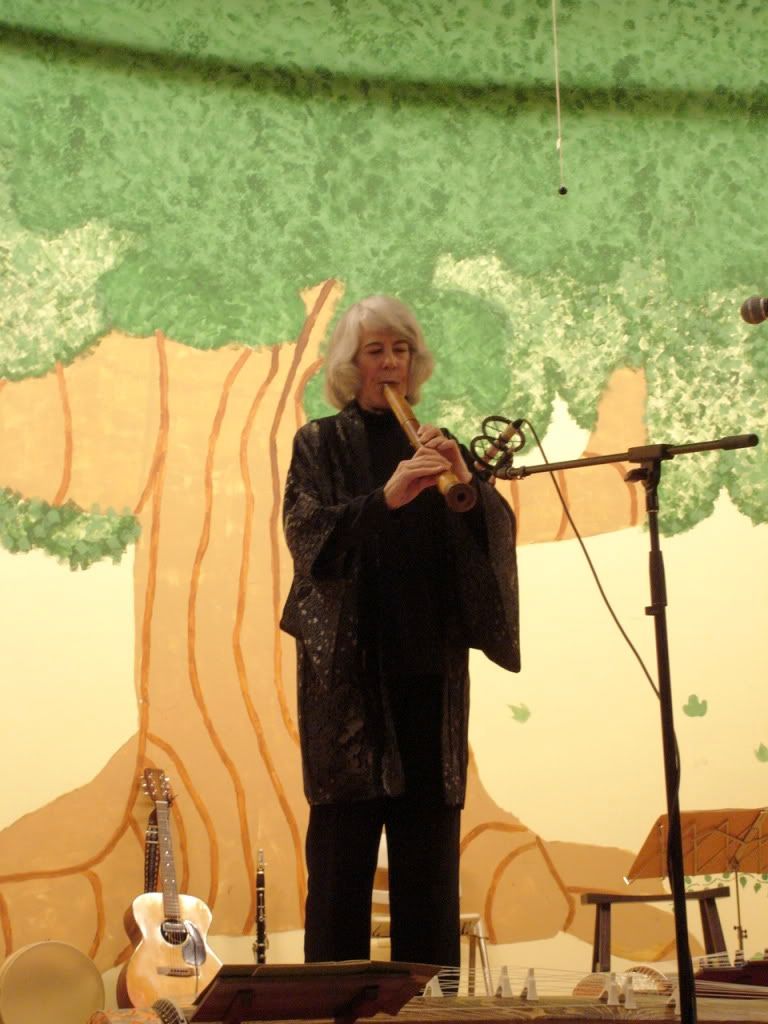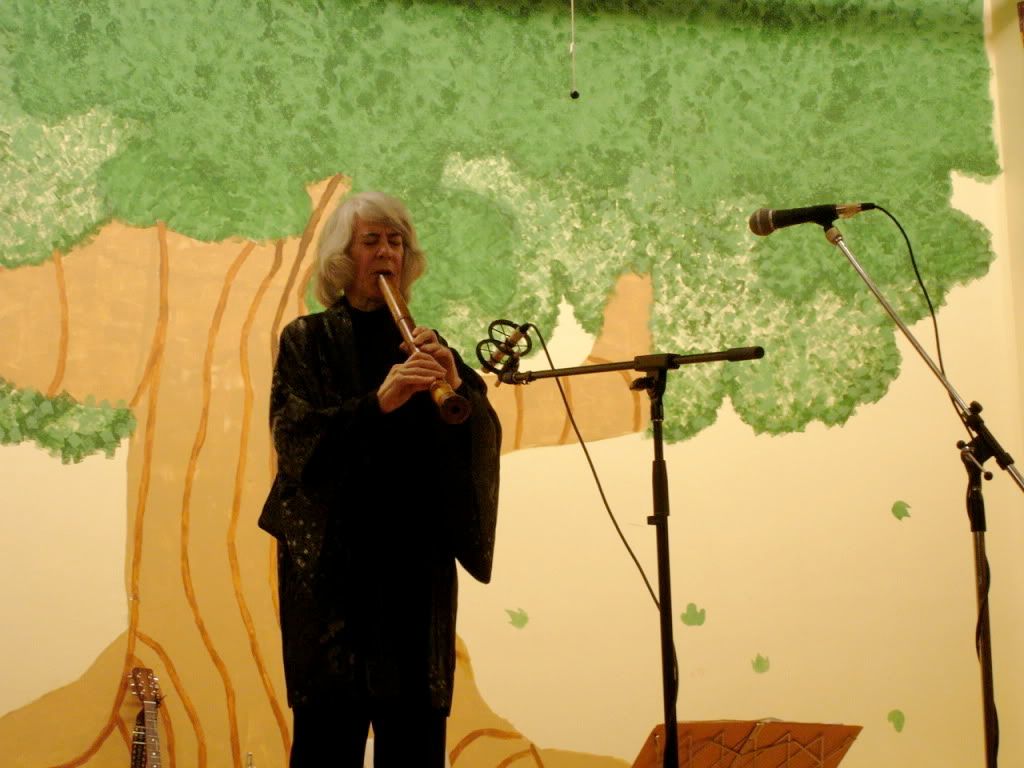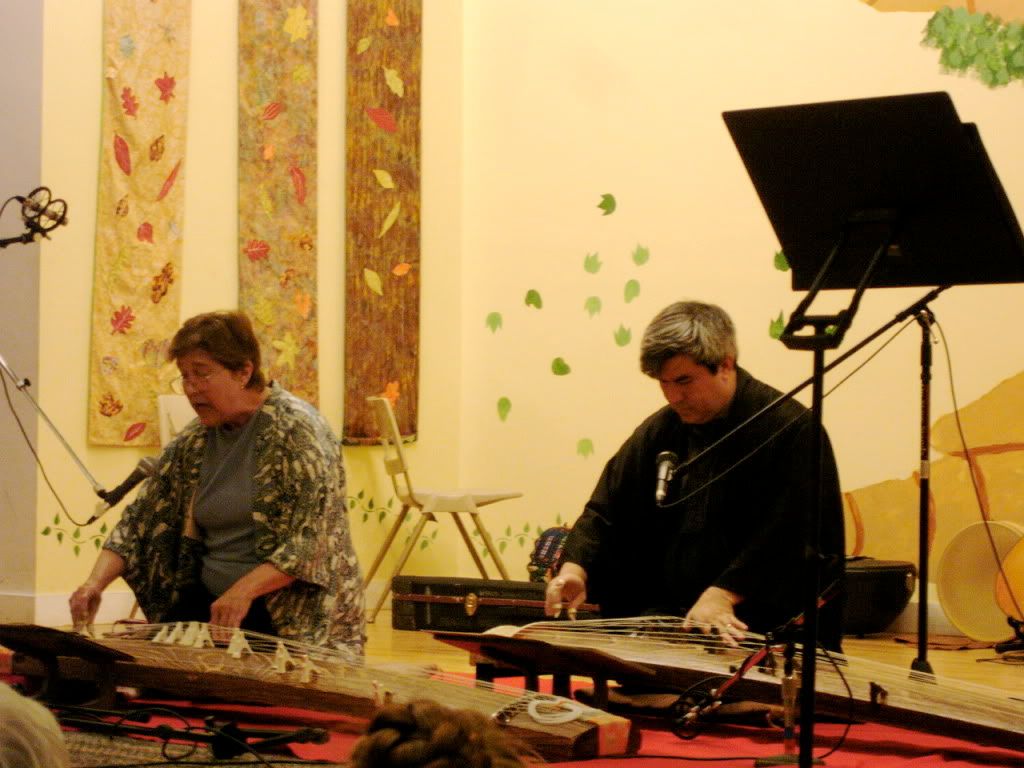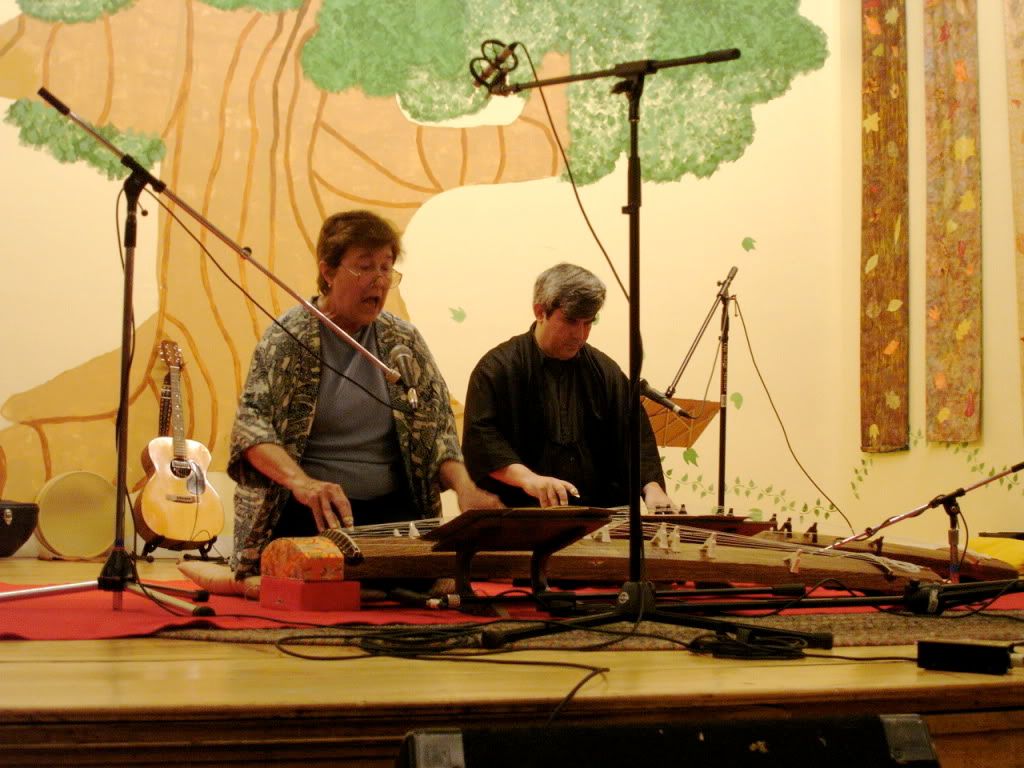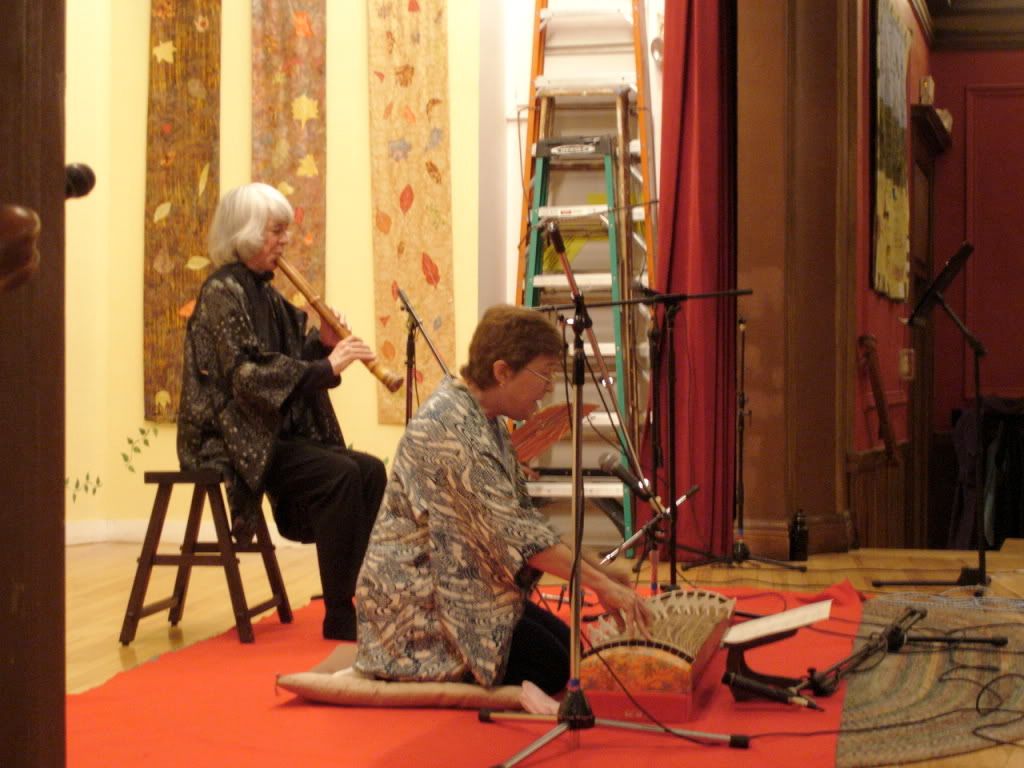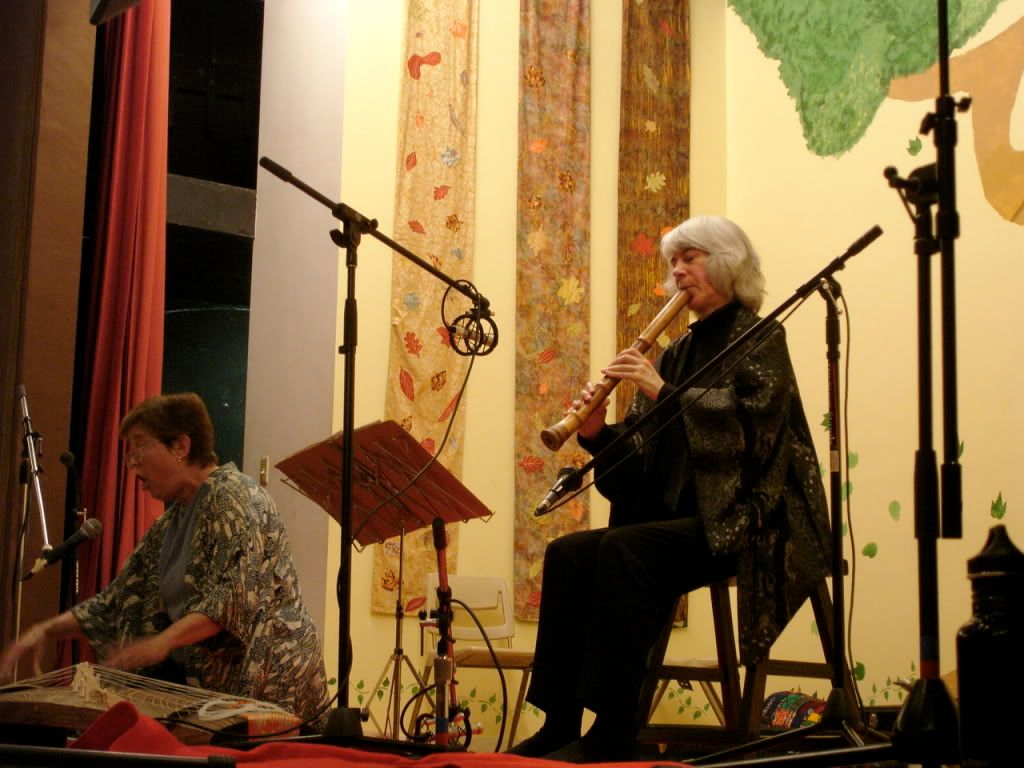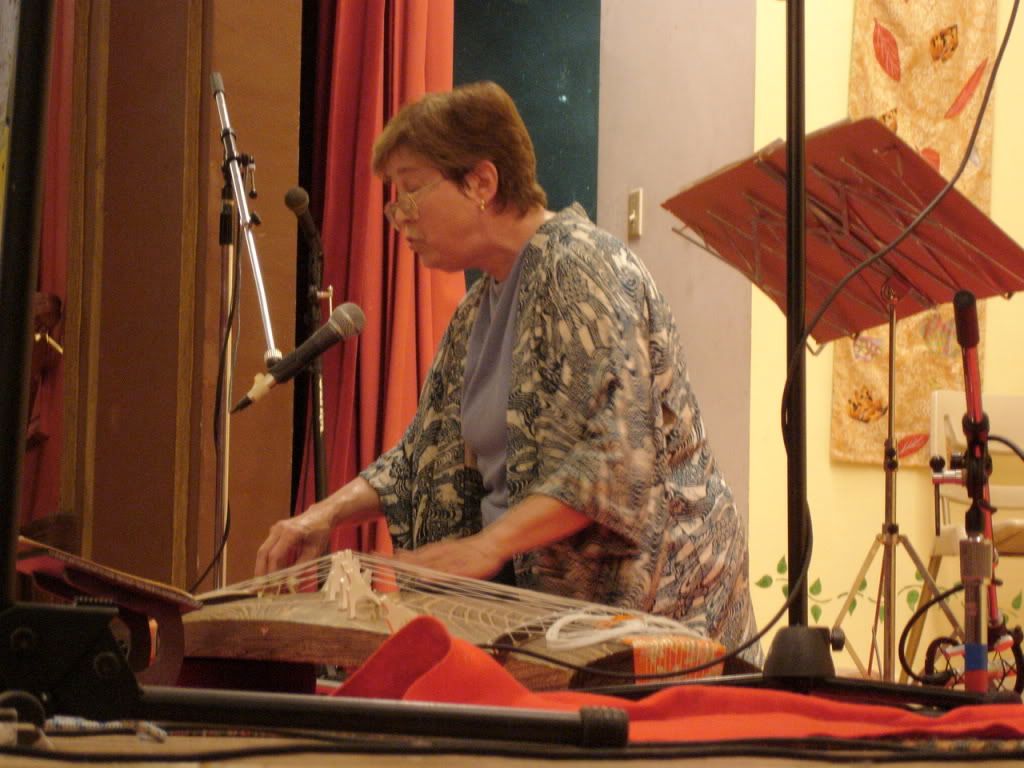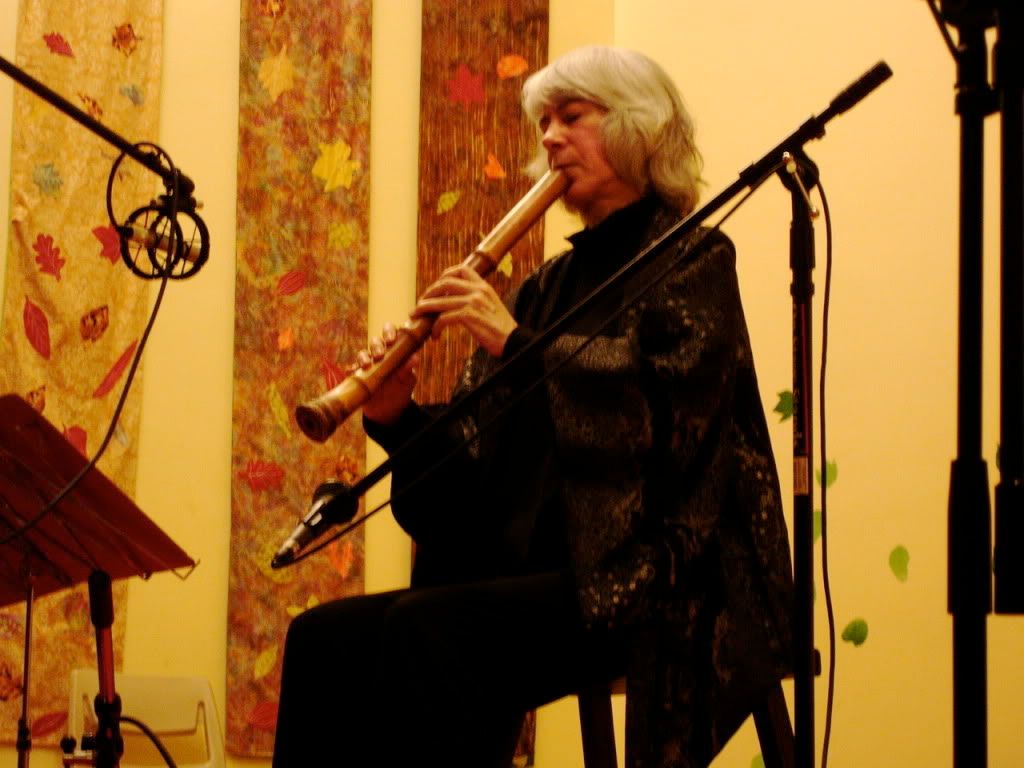 (photographs courtesy Hadley Langosey)
Miyagi no Reibo (Song of Miyagi)
Shakuhachi: Elizabeth Reian Bennett
(note: the first few notes of this performance were lost due to tape-changing. Also, the artist is not seen on the video for a little while…the camera had to be redirected.)
Bennett notes:

This is one of the songs of the monks who wandered in Miyagi Prefecture, one of the 'winter countries' of northern Honshu. This version was collected by Aoki Reibo, Reian Bennett's teacher.
—————————————————————————–
Aki no Nanakusa
by Yamato Shorei (1844-89), revised by Yamase Shoin (1845-1908)
kaede koto and voice: Ayakano Cathleen Read
honte koto and voice: Charles Hughes
Read's notes:

This lovely piece, Aki no nanakusa ("The Seven Flowers of Autumn"), is one of the compositions selected as teaching material by Ongaku Torishirabe-gakari (The Music Study Committee) in 1888.  The seven flowers praised in the piece are: bush clover (lespedeza), plum grass (miscanthus sinensis), arrowroot (kudzu vine), ominaeshi (patrinia scabiosaefolia), agueweed, wild pink (dianthus superbus) and morning-glory. 
—————————————————————————–
Matsukaze
by Yamaki Kengyo III 1838-73) and Nakanoshima Kengyo (1838-94)
koto and voice: Ayakano Cathleen Read
shakuhachi: Elizabeth Reian Bennett
(note: tape-changing forced a loss of about 30 seconds of music about two minutes before the end; the video shows a transition at this point.)
Read & Bennett's notes:

In the late Edo period, a princess from the Date family (of Uwajima, Shikoku) was married to a titled man of the Matsudaira family (of Shimabara, Kyushu).  Upon the unexpected early death of her husband, she, being an accomplished koto player, received a fine koto as a gift to console her in her deep sorrow.  The koto bore the name Matsukaze ("Wind in the Pines").  The young widow spent the rest of her life playing the koto and writing waka poetry.
—————————————————————————–
A full write-up on Bennett, Read and Hughes can be found elsewhere on this site.