27 Oct 2009, 11:05pm
music October 24 Action Warren's music: African music Ewe music Ghana
by
Warren
1 comment
Meta
In 1979, I was running the scheduling at "Cambridge Custom Percussion," the Cambridgeport neighborhood drum shop. Selling the conga drums made by "Conga Jim" VanDenAkker and the ceramic dumbeqs of Betsy McGurk during the day, the shop changed into a small performance and teaching space. I was twenty-one; the youngest member of the ad hoc collective that supposedly ran the place. I was looking for teachers who were interested in giving classes in various styles of group drumming…and that's how I met David Locke, recently returned from several years' study in Ghana. He was already teaching at Tufts, but began a regular class at CCP. That class took off; people loved the repertoire, and David was (and is) an exceptional teacher.
After a while, there was enough of a regular group that it became a repertory ensemble, the Agbekor Drum and Dance Society (eventually, if memory serves me right, incorporating as a 501(c)3 non-profit). I was never personally interested in learning the master drum parts; all I really wanted to do was play the kagan, the small high-pitched drum which fills in the offbeats in Ewe music.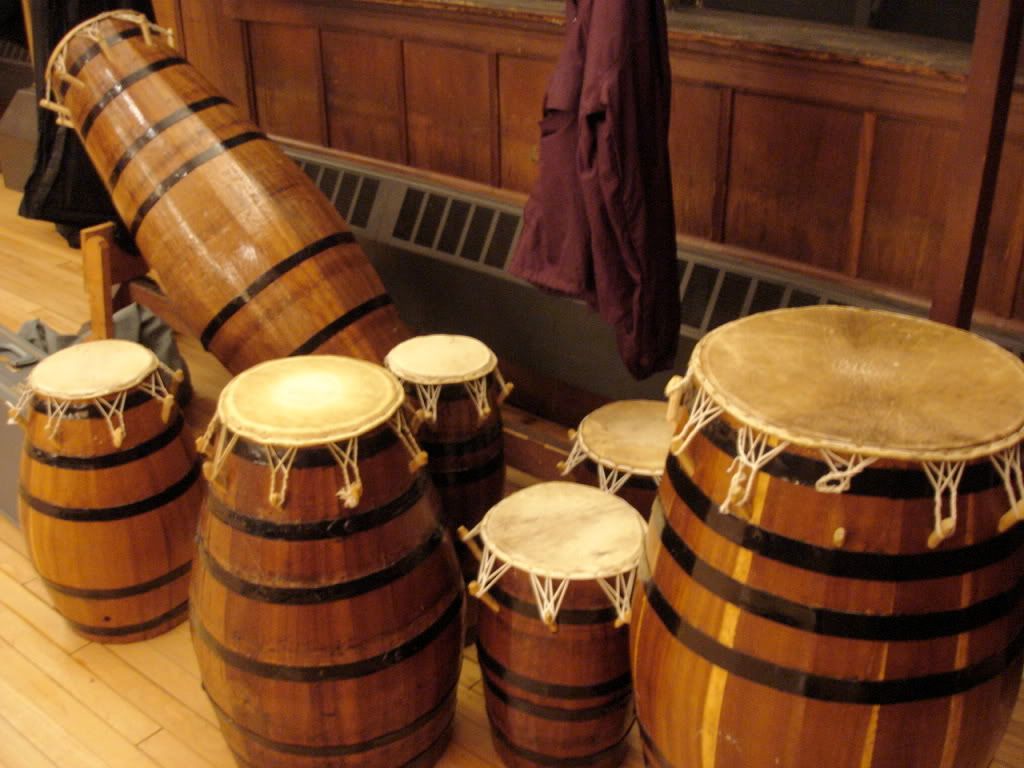 During the second half of the 80s I lost touch with the group; most of the time I was in India, which precluded participation. For a while the Society was dormant, as old members moved away and the numbers dwindled. A decade later, however, Agbekor came together again, and since the mid-90s the group has been meeting regularly, with a mix of old and and new members.
I still want to play kagan more than any other drum, and on Saturday I got my wish. If you watch the five videos you'll see that there's only one person who never changes seats. That'd be me.
It was a perfect finale for the evening. I particularly enjoy the sight of our daughter sitting in yogic posture, perfectly calm and still while the drums roared around her.
Piece number one: "Husago," with Tom MacDonald on lead drum.

Piece number two: "Agbadza," with David Locke on lead drum.

Piece number Three: "Adjogbo," featuring Faith Conant on Atsimevu

Piece number four: "Slow Agbekor," with David Locke on Atsimevu.

Piece number five: "Gahu," with Ben Paulding on lead drum.