11 Nov 2013, 1:35pm
Education
environment
by
Warren
2 comments
Meta
Christopher Hitchens, in his critique of Mother Teresa, articulated a phrase that's been running through my mind a lot recently. The full quote runs like this:
"MT [Mother Teresa] was not a friend of the poor. She was a friend of poverty. She said that suffering was a gift from God. She spent her life opposing the only known cure for poverty, which is the empowerment of women and the emancipation of them from a livestock version of compulsory reproduction."
But it's that last clause that concerns me today, in our climatically-transforming world.
We are finally beginning to take planetary climate change seriously — not seriously enough, but we're at least looking in that direction, anyway.
Notice, however, that when it comes to preparing for the shitstorm on the horizon, our collective responses have all been along the lines of, "we've got to strengthen our grid so the power won't go out," or "there needs to be more diversity in our food grid so we'll have less danger of crop failure," or "medical systems need to be more robust to cope with disasters and the migration of disease-carrying pests." You know the drill; among reasonably forward-thinking science-aware people there is plenty of thought about the physical impacts of climate change on the physical aspects of our civilization.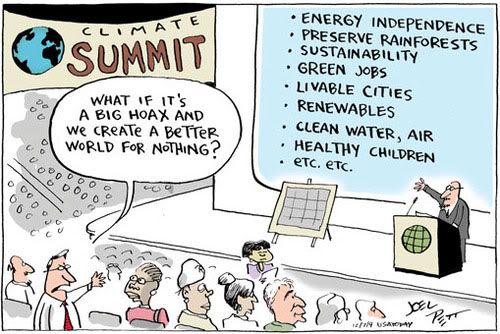 I must say, I sometimes wonder whether those physical aspects really represent the parts of our civilization worth saving. We've created a technological society which has made possible the survival of far more humans than the Earth can reasonably support; why this a good thing?
As a bleeding-heart liberal who weeps at the slightest hint of any sentient being's misery, I feel weird saying this, but it's not a bad thing that humanity's numbers are going to be drastically reduced by the consequences of climate change. We're confronting an evolutionary bottleneck, and there's no way all seven billion of us are going to fit through that narrow opening.
I'm less concerned about the physical manifestations of our civilization than I am about the "cultural infrastructure" which we have developed over many thousands of years.
This gradually evolving and self-transforming cultural infrastructure is why we (not always, but more and more often) resort to diplomacy instead of wars.
It's why we (not always, but more and more often) no longer regard slavery as a viable economic strategy.
It's why we (not always, but more and more often) are more and more prepared to recognize the notion of the common good in our thinking about society.
It's why we (not always, but more and more often) don't just think of our children as a source of free labor.
It's why (not always, but more and more often) xenophobia is diminishing.
It's why we (not always, but more and more often) are learning to reject simple classifications of gender and sexuality.
And it's why we (not always, but more and more often) have accepted the notion that women are fully human beings.
International understanding, human rights, environmentalism, children's rights, gender equity, and feminism are part of the cultural infrastructure which humanity has developed over many thousands of years of pretty easy living — made possible by a stable climate, a robust agricultural system, and a rapidly developing technological society.
What happens to all this when we face the all-but-certain evolutionary bottleneck?
We're getting a picture of what's going to happen to our physical infrastructure as climate change gets more severe, and it's not pretty. Just look at the Philippines right now, in the wake of the biggest storm anyone's ever seen. Coastal cultures are going to get hammered; lots of property damage, lots of refugees, lots of death and misery. Look at farmlands under the strain of massive drought; more hunger, more deprivation.
But relatively little thought is given to the impact climate change is going to have on our cultural infrastructure.
Diplomatic mechanisms can be strengthened, as I suggested in this paragraph in a letter I got published in the Pakistani paper Dawn:
Analysts predict that as water shortages intensify and agriculture becomes less predictable and productive, climate change's strategic impact will include bitter resource wars, a catastrophic development. While morality demands that industrialized nations take immediate steps to reduce atmospheric carbon output, it's equally imperative that the countries currently suffering the most from this human-caused destabilization strengthen their infrastructure to prepare for times of shortage and privation, while reinforcing diplomatic and cultural systems to ensure that the likely humanitarian crises can be peacefully resolved.

Link
What does an ongoing extinction event and the concomitant drastic winnowing of humanity's numbers have to do with feminism?
Everything.
Here's the last clause of that Hitchens quote again: "…a livestock version of compulsory reproduction."
Which is why climate change is a feminist issue.
Feminism grew in our civilization as our population increased and our infant mortality decreased, allowing women's lives to separate from the livestock model which may well have been a species-wide imperative at times when extinction threatened.
Yes, I want our species to survive.
Yes, I want humanity to reach the stars; to sing more beautiful songs; to solve the problems of interspecies communication; to create artificial intelligences; to accomplish all that we can.
We're not going to do that if we're struggling to pass on our genes in the face of howling climatic disorder and an ecological system gone mad. We're just going to keep hunting for food while making babies and watching most of them die.
I don't know about you, but I don't want to go back there.
We progressives have a variety of important social issues to organize around — but underpinning the notion of social progress is the critical role of an environment which does not actively threaten our survival as a species. Change the planetary ecosystem to one in which our struggle to perpetuate our DNA dominates our collective thinking, and many positive social developments could well be sacrificed in response to the short-term exigencies of existence. A stable climate has formed the stage upon which we've acted out our self-improvement.
What will we do when the old theater no longer stands? How can we keep the good we have created in ourselves?
I welcome your thoughts.