12 Mar 2010, 10:35pm
Jazz music Personal: Robert Rutman Sun Ra
by
Warren
11 comments
Meta
Several people have asked me to tell the story of my encounters with Sun Ra.
Over a span of about six or seven years, I caught Sun Ra and his Arkestra in Boston at least eleven times. While that's not a lot by Deadhead standards, it's probably more than I've seen any other musician live, with the exception of the great khyal singer Bhimsen Joshi.
To an alienated, jazz-obsessed teenager in Boston's western suburbs, the knowledge that there was a bandleading madman who claimed to be from outer space was incredibly welcome. My high school library maintained subscriptions to a wide variety of periodicals — the usual suspects (Time, Newsweek, Life), some slightly more unconventional choices (The New Yorker, Ms.), and a few that were pretty bizarre. Of these last, there were three that made a huge impression on me: The Village Voice (where I first read about conceptual art, Nam June Paik and Charlotte Moorman), Source: Music of the Avant-Garde (where I first heard of Cornelius Cardew, Christo, Steve Reich and Alvin Lucier), and Downbeat (where I kept up to date on all the latest jazz happenings, and where I first learned of the existence of Sun Ra).
It was during my junior year in high school that I found out Sun Ra and the Arkestra would be performing for a solid week of gigs at Paul's Mall in downtown Boston. Of course I was completely ineligible to go and spend hours in a jazz bar; I was fifteen. But I went anyway, and got to the club at least an hour before showtime. I was the first audience member to arrive, and somehow managed to talk my way through the bouncer. I'd brought my camera, a noisy Miranda SLR loaded with Tri-X black & white film which I "pushed" to ASA 1600 (wow! archaic darkroom talk!).
The first night I took pictures; two or three rolls' worth. The following day I developed them at school (and went into Boston to hear the Arkestra again), and the day after that I printed them and took a sheaf of prints into Paul's Mall, where I showed them to the musicians. Sun Ra was pleased, and autographed one of the photographs with a ball-point pen: "Space Age Greetings from Sun Ra," with the date. Alas, the ink has faded on the photograph and can no longer be read.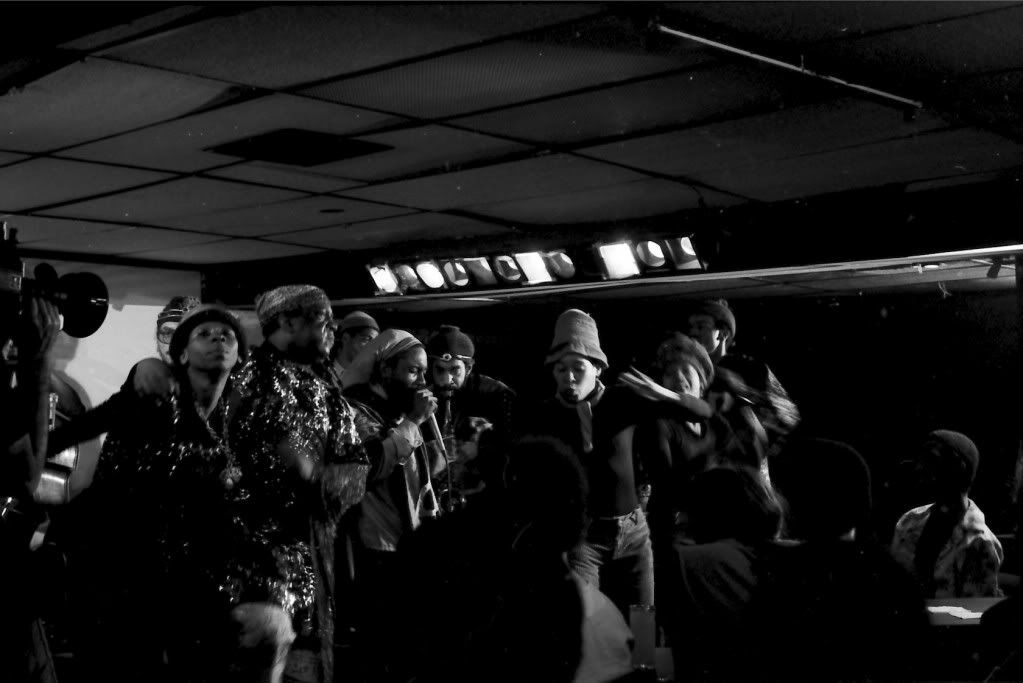 The band was promoting their releases on Impulse!, particularly "Space is the Place." There was quite a bit of that material presented at Paul's Mall. Some elements were the same from night to night; they always played "Shadow World," and there was always some sort of extended synthesizer solo from Sun Ra. And there was a lot of great soloing. Having the entire band crowded onto the tiny stage at Paul's Mall was a triumph of space management.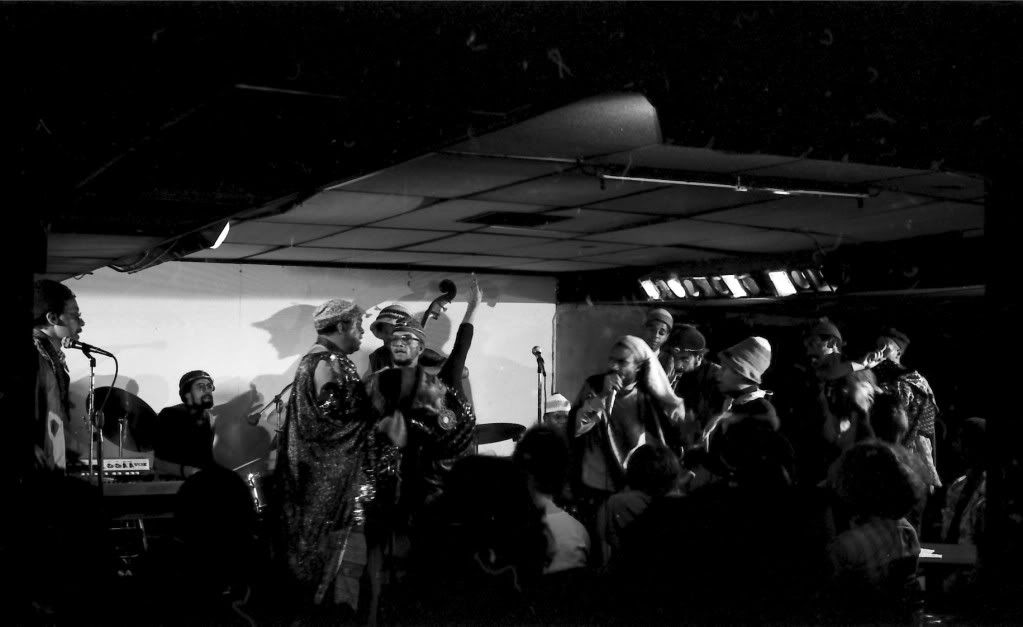 After that? Not much Sun Ra for a few years, although I continued to buy records and had quite a good collection by the time I moved into Somerville to share an apartment with two friends in 1977. Which was the year that Sun Ra's Arkestra played the Cyclorama, a huge circular hall in Boston's South End that was a superb venue for their brand of outer-space theater.
I persuaded about four or five of my hippie friends to come, and we bought tickets for the second of two sets. Which was the right thing to do: the first set lasted two hours. The second set lasted four, and concluded in the wee hours of the morning with a massive drumming session that featured a number of dancers and a fire-eater who blew huge spheres of flame into the air while the band roared and pounded. One of my roommates had ingested a powerful psychoactive substance which was at the peak of its influence at this point; I turned to look at him and was rewarded by a facial expression: mouth gaping in amazement, eyes wide open with pupils the size of quarters.
I didn't meet Sun Ra that time. We went home, completely blown away.
Ahhh, but the next time Sun Ra came to town, I was ready.

Robert Rutman and his instruments, the Steel Cello and the Bow Chime
A little back-story is necessary. In 1977, I'd begun working with an artistic genius named Robert Rutman, who'd created a family of remarkable steel instruments, the Bow Chime and the Steel Cello. A teenager, I had become obsessed with the sounds of the Bow Chime after hearing it in a local concert, and eventually spent a few hundred dollars (which was a lot in those days) on buying one of the instruments. I was the first (and for a long time the only) person to buy one of Rutman's instruments. I used it in my own music, gigged with Rutman's group, the U.S. Steel Cello Ensemble, and promoted his work every chance I got.
Here, by the way, is what three Bow Chimes sound like.

A Bow Chime
You need to know that if you're to understand what I wanted to attempt when I heard that Sun Ra was returning. He was to perform at a now-defunct theater in Boston, and it was to be a week-long run in which the Arkestra was joined by light artist Bill Sebastian, who had crafted an extraordinary device (the Spacescape light organ) that gave a dazzling visual accompaniment to the music. I made plans to go every night.
After the first night, I went backstage, and made my case to a member of the band, who took me to see the Arkestra's road manager, Richard Wilkinson.
I explained that I worked with artist who crafted amazing musical instruments out of sheet steel, and that the sounds they produced would be ones that Sun Ra might find useful, compelling and beautiful. I must have been persuasive, for a group of the players agreed to come to my house, where one of Rutman's instruments was set up. Wilkinson, James Jackson, Marshall Allen and one other player all took a cab with me to my home in Cambridgeport, and entered my music room.
There, set up in the corner, was my Bow Chime. And I played it — and y'know what? It was every bit as impressive as I said it would be. They all agreed that "Sunny" had to see the instrument, and he might even want to use it in the show. One of the musicians leaned over to me as the conversation was concluding and asked if I knew where they might be able to score some weed. That was interesting, since I knew that Sun Ra disapproved very strongly of drugs. In the event, I was unable to help; I know this decreases my hipness quotient, but that's the way it was.
The next day in the afternoon, Wilkinson, James Jackson and Sun Ra came back to my house, and Sun Ra admired the instrument. I had made arrangements for Robert Rutman to be available at his studio nearby, and we went over to his place. I introduced them: "Bob, this is Sun Ra. Sun Ra, this is Bob."
Rutman, a lean, cynical, laconic man with a slight German accent and a perennial 5-day growth of beard, said, "Hi, Sun Ra. You wanna beer?" Sun Ra replied, "Yes, I think I will have a beer." Bob handed him a can of Budweiser, and the two men drank.
They chatted briefly, and Bob handed Sun Ra one of the big bass bows that were used to play the Bow Chime and the Steel Cello. Sun Ra walked to one of the instruments and started stroking the metal rods with the bow.
This was very interesting. I have met exactly one person who was unable to evoke the deep, echoing drone of the Bow Chime. And that person was the Man from Saturn. Sun Ra could not seem to engage the bow with the surface of the metal. All that came out were a few high whistling noises. I was amazed. Rutman looked skeptical and a little disgusted. The band members looked reverent and a little awestruck.
Sun Ra went on to attempt playing the Steel Cello. The same thing happened. This was an instrument that activated with the slightest touch of the bow…and he could not get any traction on it whatever.
Well.
He put down the bow and asked Bob if the Arkestra could use the instruments on stage at the Modern Theater during the remainder of their run. Notwithstanding the fact that the Great Man did not seem able to play his creations, Rutman agreed, and they worked out some details. Rutman was also given comps for the show (as was I, of course).
Then Sun Ra spotted Rutman's dog, whose name was, simply, Rutdog. Rutdog at the time was just a Rutpup, and a friendly one at that. Sun Ra's face lit up.
He went over to Rutdog and leaned down.
"Hello, little puppy," he said in a light tenor voice. "You've never met anyone like me before. You know why? Because I'm from Saturn, that's why. Shake hands with your nice friend from Saturn, now!"
Rutdog shook hands with Sun Ra. I looked over at Rutman. He had a strangely exasperated expression on his face.
The story basically ends there. Rutman delivered the instruments to the theater and they were incorporated into the Arkestra's show that week; once a night, Sun Ra would leave the keyboards and come forward to the front of the stage where they stood…and invariably fail to elicit more than the most meager whistling noises. After a few minutes he would return to his seat amid thunderous applause. Rutman came to one of the concerts, but he didn't like it.
The last time I heard the Arkestra was at another Boston concert a few years later. The band was almost two hours late; the band bus had been in an accident on the way up from Pennsylvania. Another member of the audience and I wound up organizing a massive clapping jam that lasted easily 90 minutes. I have often wondered who he was — we never exchanged a word, but we were clearly operating on the same level.
The band finally arrived, and they played a fairly perfunctory set of just under two hours. Pretty good for a group of musicians who'd been in a fairly serious automobile accident not long before. They were obviously tired, and when they finally reached the end of the show, June Tyson came out and began to sing "They'll Come Back."
They'll come back, in shining ships of gold,
with wisdom never told —
tales of myth-world splendor…
and they'll take back, the others who are not
of Earth's dimensions one —
the others who are ready.

Harmony, melody, rhythmic magic,
tales of myth-world splendor..
And then a phalanx of jackasses began yelling out, "Hey, c'mon, Sun Ra! We want to hear more saxophones!" It didn't matter; the concert was over.
That was the last time I heard the Arkestra.
Here's Bill Sebastian's film with Sun Ra, for your viewing and listening pleasure: