22 May 2013, 6:07pm
environment India music: benefit concert
by
Warren
2 comments
Meta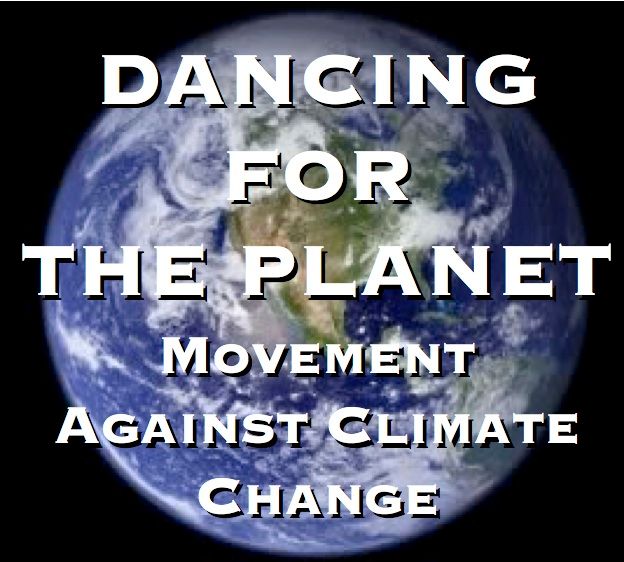 Navarasa Dance Theater
Nani Agbeli & The Agbekor Society
Zoé Dance Company
Friday, June 21 — 7:00 pm — Boston
On Friday, June 21, three dance companies representing diverse movement traditions will join together to draw attention to the global climate crisis. Featured artists are the Zoé Dance Company, the Navarasa Dance Theater, and Nani Agbeli & The Agbekor Society. The music begins at 7:00 pm, at Emmanuel Church, 15 Newbury Street, Boston, MA. Tickets are $20; $15 students/seniors. All proceeds will go to 350ma, the Massachusetts chapter of the environmental organization www.350.org. For information, please call 781-396-0734, visit "Dancing For The Planet" on Facebook, or send us an email.
"Dancing For The Planet" is the seventh concert in the "Playing For The Planet" series, conceived as a way for creative performers to contribute to the urgent struggle against global warming. Because the climate problem recognizes no national boundaries, the artists represent styles from three different parts of the globe. Their choice of beneficiary, 350MA.org, is focused on building global consensus on reduction of atmospheric CO2 levels — action which climatologists agree is necessary to avoid catastrophic outcomes. It'll be an evening of brilliant dance and movement — for the central cause of our century.
Purchase tickets online from CCNOW:

Regular admission: $20


Student/Senior Admission: $15

Advance Ticket Orders Are Accepted Until 3 pm on June 21. Orders received after Tuesday, June 18 will be held at the door.
About the Artists
=======================================================
Navarasa Dance Theater was founded by renowned dancer/choreographer Dr. Aparna Sindhoor. Inspired by the eclectic performing arts traditions and boldly knitting together dance, singing, martial arts, and original music into seamless theatrical presentations, Navarasa's multilayered, multilingual productions inspire, engage and entertain audiences around the world.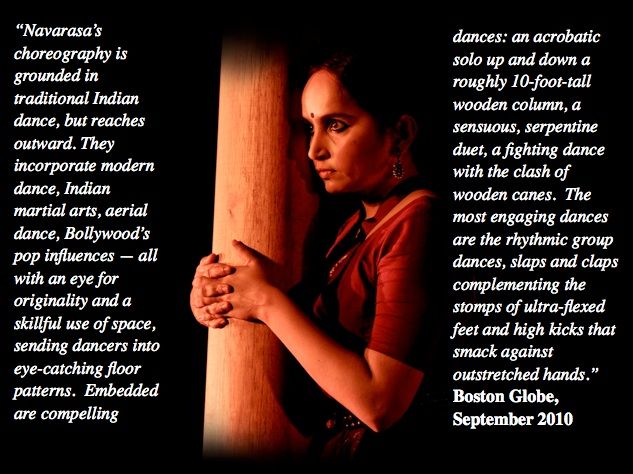 With original movement vocabulary created by choreographers Sindhoor and Anil Natyaveda along with theatrical narratives designed by S M Raju, Navarasa Dance Theater's work is simultaneously specific and universal.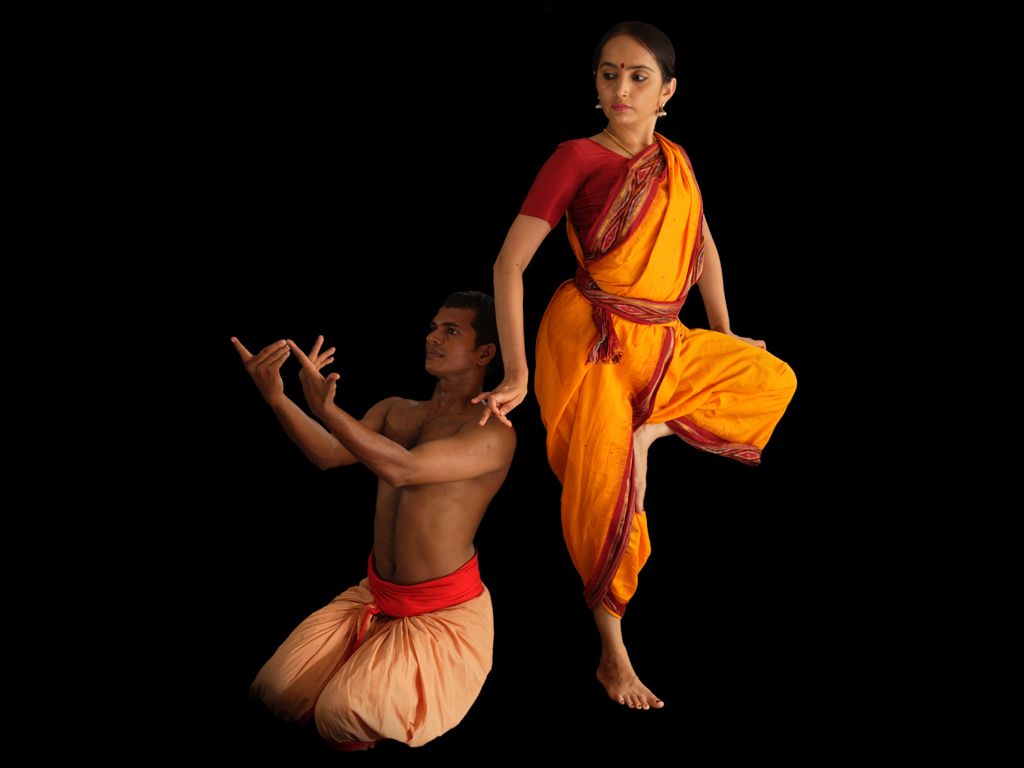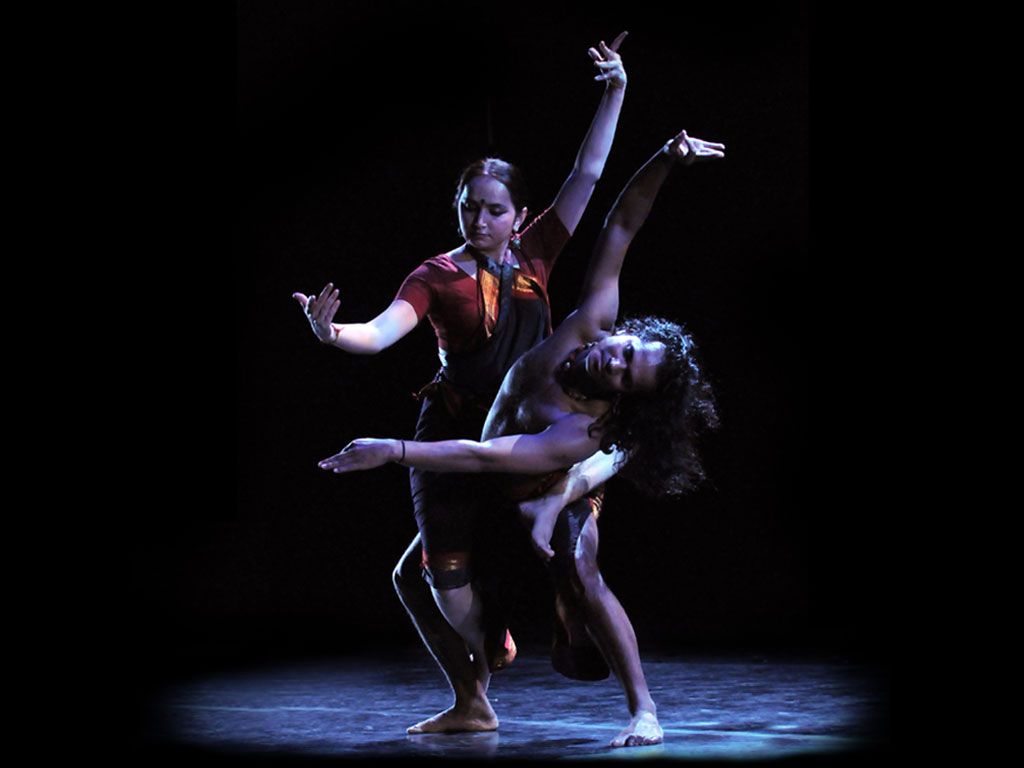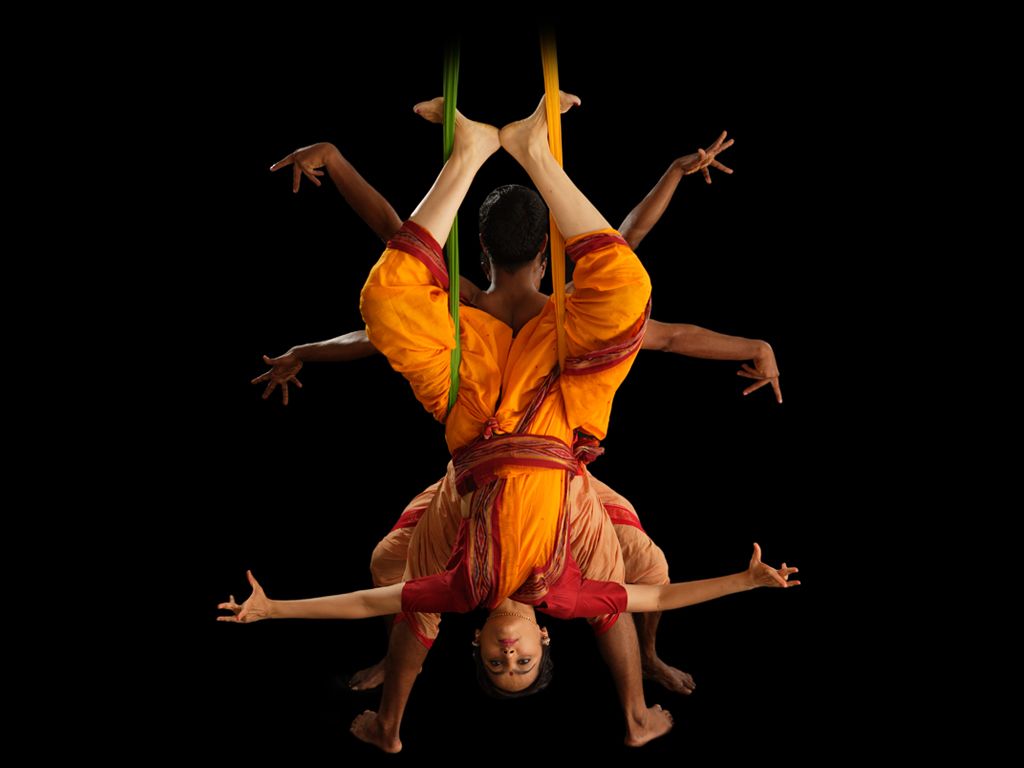 Navarasa Dance Theater has performed in North America, Asia and Europe and has been presented at various festivals and venues including the Bates Dance Festival, Lincoln Center (NYC), East West Players, LA and NJPAC, Jacob's Pillow and Asian American Theater Festival, USA; Teesri Duniya Theater, Canada; Amol Palekhar's Beyond Words Theatre Festival and Bahuroopi National Theatre Festival, India; and Franco Dragone's INDIA show in Germany. With performing arts training schools in USA and India, Navarasa's ongoing teaching programs include the "Dance for Everyone" project that offers scholarships and free dance training for underprivileged children and adults.

======================================================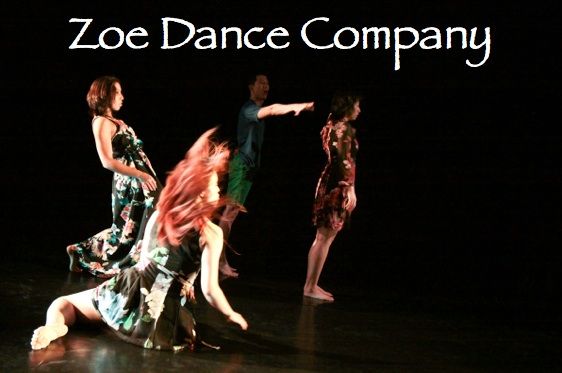 Founded in 2002, Zoé Dance has presented works by Callie Chapman Korn, Ivan Korn, Emily Beattie and Meghan Ballog. Zoé Dance nurtures the art of dance, dance theatre and performance through accessible performance venues, educates the public and creates social awareness through themes explored in repertory, and has presented its work since 2002 in various venues and performance opportunities around Boston and internationally such as: World Music/CRASH Arts' "Ten's the Limit" (2005 and 2007), ArtBeat 2004 and 2009, "Virgin", produced by the Dance Renewal Project, Harvard Square's "May Fair" 2004, with the Choreographers Group 2004, Earth Dance's Outdoor Performance Festival 2003, Corporación Cultural de Las Condes (Santiago, Chile) 2007, Boston Center for the Arts' Mills Gallery as a featured artist of the Movement at the Mills residency.
Zoe has also presented its work at the Dance Complex, Cambridge Multicultural Arts Center, Tower Auditorium at Massachuestts College of Art, the Boston Common, Union Square Plaza, and Green Street Studios. Zoé Dance was awarded a project grant from the Somerville Arts Council (2010) and was a finalist for the Boston Dance Alliance's Rehearsal and Retreat Fellowship (2009).
Callie Chapman Korn (artistic director): Callie holds a B.F.A. from the Boston Conservatory. With Zoé, Callie has presented her work in venues such as CrashArts' "Ten's the Limit" at the ICA and Green Street Studios, Corporacion Cultural de Las Condes (Santiago, Chile), multiple self-produced concerts, festivals, part of the Dance Renewal Project's "Virgin", Dance Complex's Shared Choreographers Concert. She currently dances for Prometheus Dance and has worked with artists such as: Nicola Hawkins, Karen Murphy and Emily Beattie. She has collaborated with video artists Greg Shea and Ken Kinna, composer Ivan Korn, and composers/musicians Pancho Molina and Billy Herron. Callie also helped develop the Dance Renewal Project and is currently the Marketing and Design Associate for the Boston Dance Alliance.

======================================================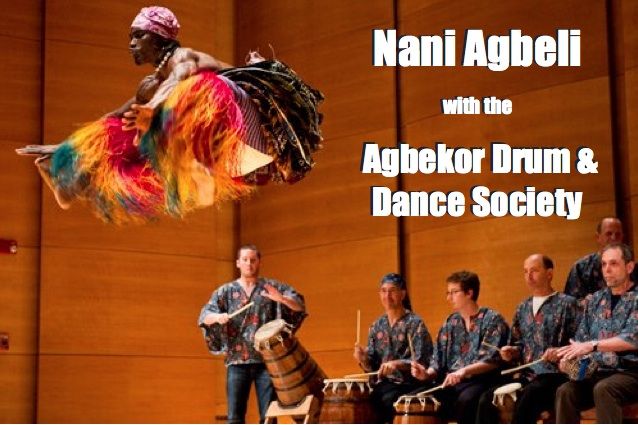 Known for his energy, athleticism, and precision on stage, the charismatic Nani Kwashi Agbeli is a native of the Ewe from the Volta Region of Ghana, W. Africa. He received his drum and dance training from his father, Godwin K. Agbeli, who was the chairman of the National Folkloric Company at the Arts Council of Ghana. Nani performed with and led the cultural group Sankofa Root II in Ghana where they received many awards.
For nine years, he served as the lead drum and dance instructor at the Dagbe Cultural Center, a school that trains domestic and international students in Ghanaian traditional arts, and is now on the faculty of the Music Department at Tufts University, where he and directs the Kiniwe Ensemble and teaches an integrated curriculum in the traditional singing, drumming and dancing of Ghana.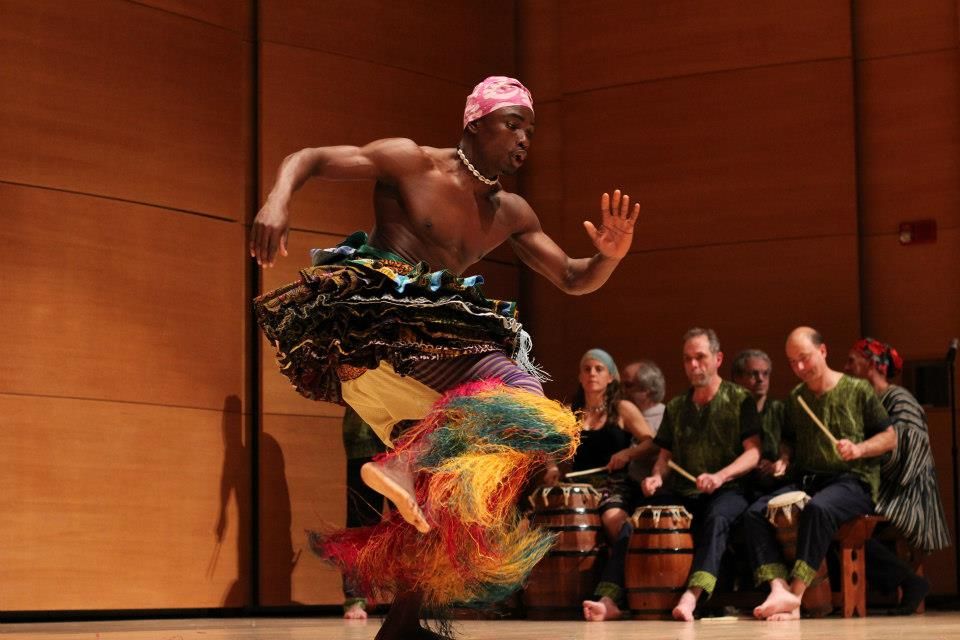 Nani also teaches Ghanaian dance and drumming at Brandeis University and Mount Holyoke College, along with Berklee College of Music, the Edna Manley School in Jamaica, Bowling Green University, and the University of Virginia, among others. He currently lives in Boston, Massachusetts.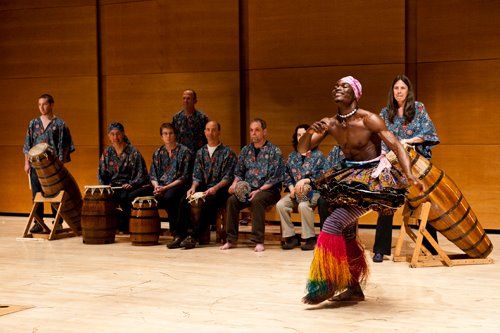 The Agbekor Drum & Dance Society began in 1979 as a project to study and perform repertory from Africa, primarily focusing on two separate repertoires: Ewe and Dagomba. The homeland of the Ewe people is along the Atlantic Coast of western Africa in the nation states of Ghana and Togo. The Dagomba homeland is in savanna grasslands several hundred miles to the north and the lands of their traditional kingdom, Dagbon, are entirely within the current borders of Ghana. In Ewe drumming, each instrument has a specific rhythm that it repeats over and over. Riding on this musical wave, so to speak, the lead drum sends musical signals that cue dancers when to do their different variations. In Dagomba dance-drumming, four different drum parts intertwine their variations. In both Ewe and Dagomba traditions, each item of repertory has its unique purpose, meaning, history, and performance personality.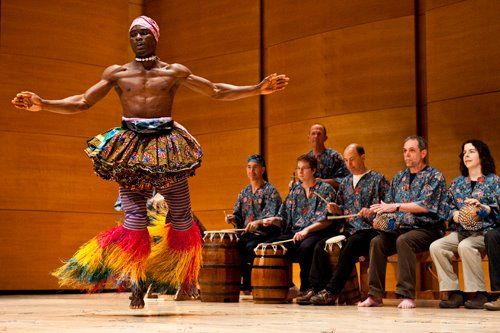 In their frequent collaborations with Ghanaian master drummers, the Agbekor Society continues to renew its connection with its African sources. The Society has appeared in clubs, concerts, lecture-demonstrations and festivals throughout New England, and in collaborations with jazz and "world music" artists like Natraj, Antigravity and the Jazz Composers Alliance Orchestra.
======================================================
About www.350.org and the number 350:
Co-founded by environmentalist and author Bill McKibben, 350.org is the hub of a worldwide network of over two hundred environmental organizations, all with a common target: persuading the world's countries to unite in an effort to reduce global levels of atmospheric carbon dioxide to 350 parts per million or less. Climatologist Dr. James Hansen says, "If humanity wishes to preserve a planet similar to that on which civilization developed and to which life on Earth is adapted, paleoclimate evidence and ongoing climate change suggest that CO2 will need to be reduced to at most 350 ppm." (Dr. Hansen headed the NASA Institute for Space Studies in New York City, and is best known for his testimony on climate change to congressional committees in the 1980s that helped raise broad awareness of the global warming issue.) Activists involved in the 350 movement include Rajendra Pachauri (Chairman, Intergovernmental Panel on Climate Change), Vandana Shiva (world-renowned environmental leader and thinker), Archbishop Desmond Tutu (1984 winner of the Nobel Peace Prize and a global activist on issues pertaining to democracy, freedom and human rights), Van Jones, Bianca Jagger, Dr. James Hansen, Barbara Kingsolver and many more.
======================================================
Warren Senders is the contact person for "Dancing For The Planet." He is one of thousands of concerned global citizens hoping to trigger positive change through social action and the arts. He can be reached at warvij@verizon.net or by telephone at 781-396-0734.
======================================================
"Dancing For The Planet" will be pleased to supply photographs and promotional materials for each of the artists performing at this event.