4 Aug 2011, 4:12pm
India music vocalists: 78 rpm discs African music genius
by
Warren
3 comments
Meta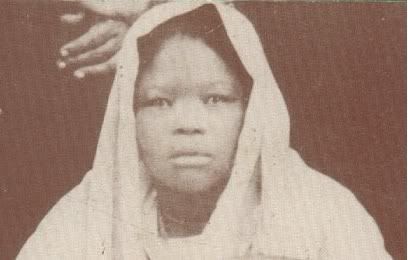 I was looking through stacks of 78s in Chor Bazaar during a Mumbai visit in the late 1990s when this one showed up under my fingers.
Always on the lookout for anomalies, I was delighted to find this double-sided recording of a Swahili song. Turns out the singer is really terrific; a little bit of searching under her name yields quite a lot of information about someone who was quite an important figure in world music in the first half of the twentieth century.
Sheikh Abdullah Amur Suleiman has more, in a charming biography on the Zanzibar facebook page:
With a characteristic and gifted voice, Siti binti Saad rose to a position of national pride as the songstress of her day. She was the first East African woman to have her voice recorded on discs for the purpose of entertaining and promoting the Swahili language and creating a commercial enterprise out of those records.

Those memorable love songs are still in the hearts of many admirers who pass them on to the next generation. Siti, as she was commonly known, sang in Swahili. She sang at the palace, wedding parties and other public functions.

Siti could also sing in Arabic and Hindustani. When the monsoon dhows from Kuwait, Iraq, Oman and Southern Arabia visited here in those days she used to be fully booked with singing appointments to entertain the captains and crews of the dhows.
Elmughani Shahir Sitti Binti Saad (with Chorus):
"Riala Yashami Haisemi Uwongo"