8 Jul 2011, 10:17am
India
Indian music
music
vocalists
by
Warren
3 comments
Meta
No information seems to be available about Pandit Shikarpuri. Perhaps, as his name suggests, he's originally from Shikarpur.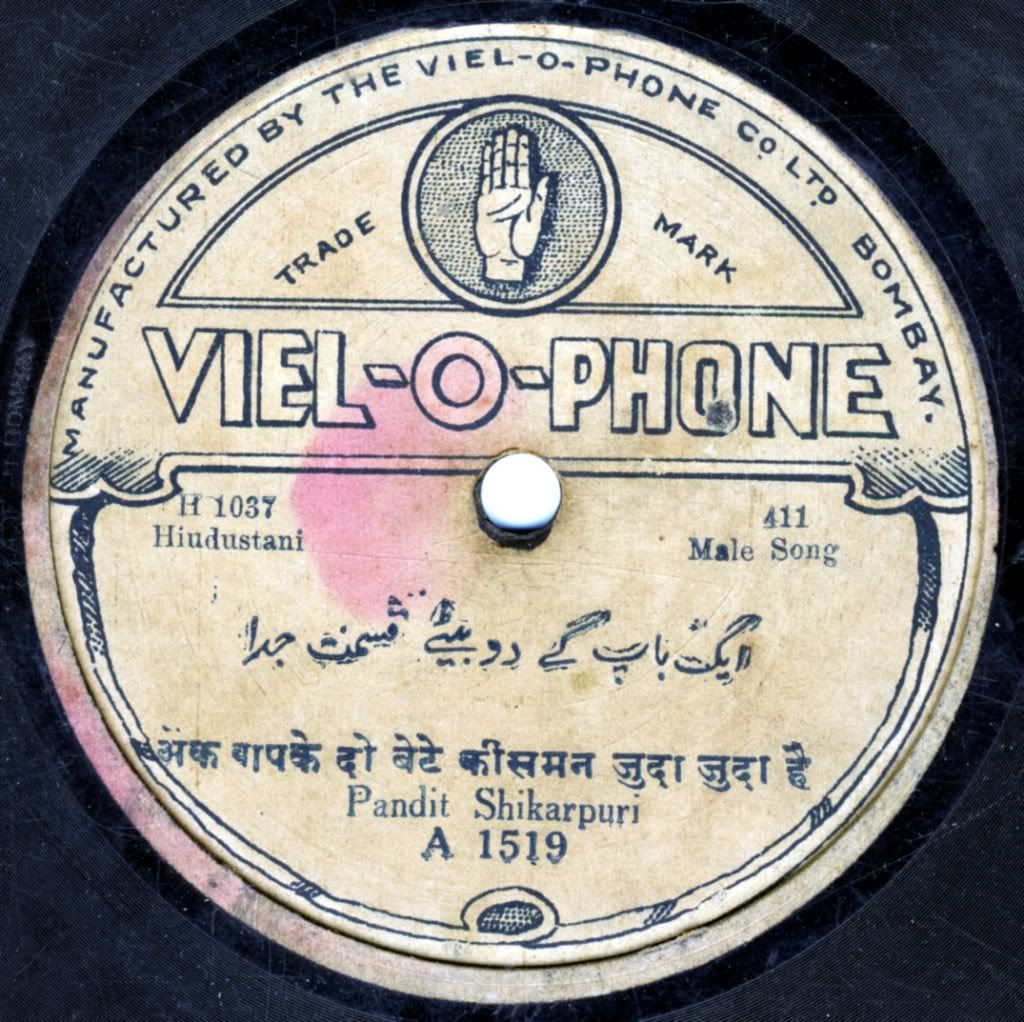 Homeopathic doses of information are available about the record label:
Michael Kinnear says this about Viel-o-phone:
…Valabhdas Runchordas established his own record pressing factory in 1914 under the name of the Viel-o-phone Co., Ltd., in Bombay.
On the other hand:
During 1926, Valabhdas Runchordas, who had been in the sound recording industry in Bombay since 1902, and a persistent rival of The Gramophone Co., Ltd., organised a company in the name of The Viel-o-phone Co., Ltd., with a disc record factory at Matunga, in the northern suburbs of Bombay with the co-operation of Edison Bell, Limited, London .

By mid-1927, The Viel-o-phone Co., Ltd., was producing and pressing disc records under a variety of labels, however, technical and financial problems had forced the closure of the Matunga factory by early 1933. The pressing of disc records by the Matunga factory had encouraged The Gramophone Co., Ltd., to organise a subsidiary company in the name of The Twin Record Co.,. Ltd., Calcutta, in competition with the Matunga factory, often replicating the same releases with releases on the 'Twin' label under pseudonyms.
These songs have distinct classical flavorings, but don't showcase any fancy improvisation. Shikarpuri's voice is clear and well-modulated; I quite enjoy this pair of geets.
A confession: my purchase of many of these records was purely impulsive — after going through huge stack after huge stack of grimy HMV discs, I would get heartily sick of looking at Nipper looking into the Victrola, so any labels that presented a contrast automatically went into my "to-buy" stack.