2 Aug 2011, 10:49am
India Indian music music vocalists: 78 rpm discs
by
Warren
1 comment
Meta
This disc was part of the collection of 78s I acquired in Udaipur in 2000. These songs would appear to be in the Bangri language, which is also known as Haryanvi.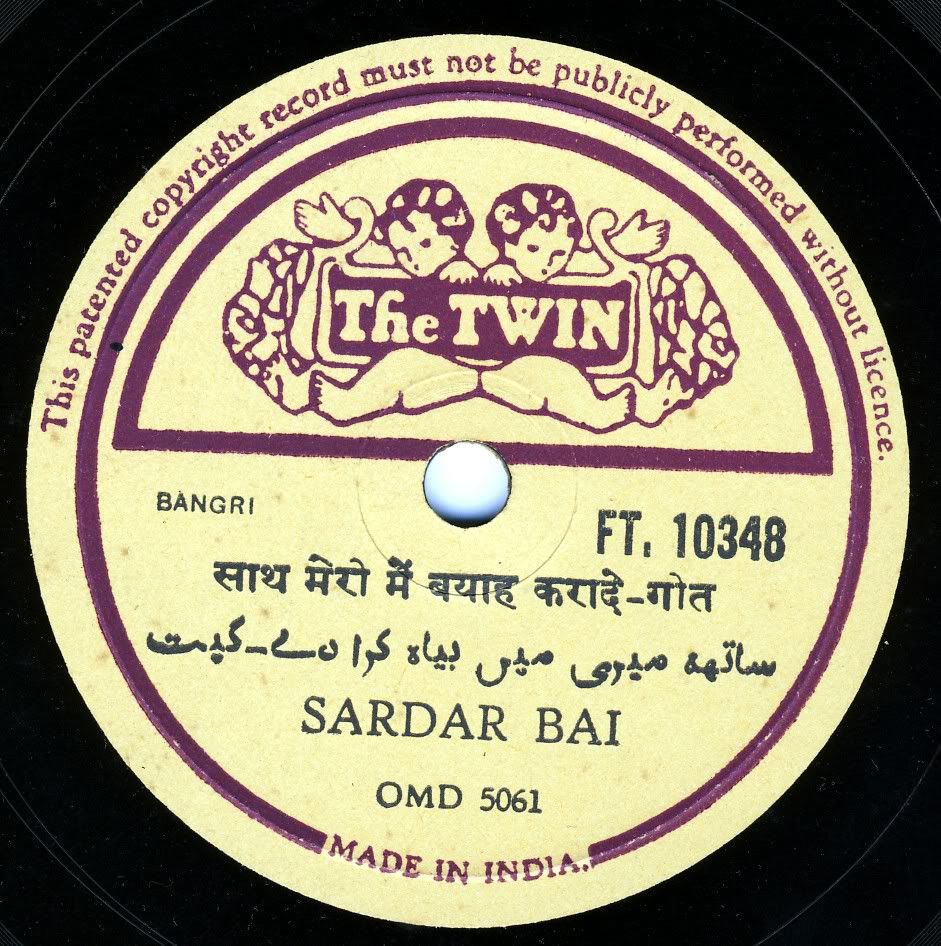 It is possible that this music is specific to the Bangri people, about whom little information is available beyond this:
The 5.7 million Bangri are located mainly in the states of Haryana, Karnataka, Himachal Pradesh, Uttar Pradesh, Punjab, and Delhi. Their language, Bangaru, is a member of the Indo-Aryan language family. Little is known about their specific lifestyle and culture.
Link
Irritatingly for my atheistic self, the site is that of PrayWay, a "global prayer community" that lists the Bangri among the world's "unreached" peoples:
* People name: Bangri
* Country: India
* Their language: Bangaru
* Population:
(1990) 5,251,200
(1995) 5,776,500
(2000) 6,309,100
* Largest religion:
Hindu 98.4%
* Christians: 1.6%
* Church members: 92,425
* Scriptures in their own language: None
* Jesus Film in their own language: None
* Christian broadcasts in their own language: None
* Mission agencies working among this people: 2
* Persons who have heard the Gospel: 1,421,000 (25%)
Those evangelized by local Christians: 439,000 (8%)
Those evangelized from the outside: 982,000 (17%)
* Persons who have never heard the Gospel: 4,355,500 (75%)
Fortunately for us, there's no need to convert these folks; let's just listen to these two songs.
No information is available about Sardar Bai; there have been various well-known singers with that name in India's recent history. I'm betting this isn't one of them.
Saath Meri Men Bayaah Karaade
Aise Devar Ko Na Lod