29 Jun 2011, 10:48am
India Indian music music vocalists: geet tappa thumri
by
Warren
3 comments
Meta
For a self-described "amateur," Miss Indubala recorded very prolifically, as this discography shows. Of course, the word "amateur" was code for "Do Not Mistake Me For A Tawaif."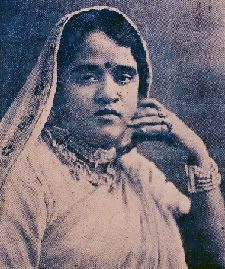 Miss Indubala: 1899-1984.
This is an unusual piece. The opening mukhda and much of the following singing uses frequent tappa-ang taankari, but the text is Hindi, and describes Lord Shiva — playing the games of Holi!
I have never heard any other Hori composition which includes Shiva in the festivities.
The other side of the record, unfortunately, has so many skips and pops in it that trying to piece together the performance is beyond me at the moment.
Indubala's life story would make a good movie:
Indubala's mother was Rajabala, who along with sister Matibala and brother Tinkary worked in Motilal Bose's The Great Bengal Circus, also known as Bose's Circus or Professor Bose's Circus. Harimati was the eldest sister of Rajabala and had a different life. Rajabala performed mainly as a trapeze artiste and got married to Motilal Bose at a temple in Ujjain, India. At the time he was then in his forties while Rajabala was still a teenager. The marriage was never accepted as legal by Motilal's family. Motilal Bose's first wife was Mrs. Annadamohini Devi. Indubala was born in Novenber, 1899 at Amritsar, where the circus party had gone for performance. Indu was born premature and Dr. Bidhumukhi Basu was taken to Amritsar from Calcutta to attend to Rajabala. Such was the affection and concern of the husband for his young wife. Motilal's interest in Rajabala dwindled later, supposedly because Rajabala showed no interest in going back to the circus after Indu's birth and soon she was left to fend for herself. She came to Calcutta with her daughter and was given shelter by a Jiban Krishna Ghosh, who remained loyal to her till his death and also played a major role in establishing Indubala in her life as a performer. Once in Calcutta, Rajabala trained herself as a singer and Indubala's first training in music was from her mother. The initial plan was to train Indu as a nurse and she was admitted as a trainee in a hospital in the Pataldanga locality of Calcutta. Indu did not take fancy in the job and ran away from the hospital, much to the disappointment of her mother, who never wanted her only daughter to be forced into a life of indignity. After this incident Indubala's musical training started. Although her father ignored wife Rajabala completely, he remained fond of his daughter and kept in touch with her and often invited her to his ancestral home where he lived during his brief visits to Calcutta and sent her a monthly pocket money of Rupees twenty till his death. Indubala's first performance was at a gathering of distinguished guests where her mother was the chief entertainer. Each one of the guests appreciated Indu's singing and thus began her formal training from Gouri Shankar Mishraji. Indu was only about twelve then. This also marked the entry of Indubala into the red light world. Amongst her trainers were Kali Prasad Mishra, Elaahi Bux and Miss Gauhar Jaan. Apart from music, Miss Gauhar Jaan, credited as Prima Donna of India, Indu also learned etiquette from the elder artiste and developed a close friendship with her. This association provided Indu with valuable musical knowledge and experience.