17 Apr 2016, 11:07am
environment Indian music music vocalists: 350.org 350ma activism benefit concert
by
Administrator
leave a comment
Meta
On Saturday, June 4, the thirteenth "Playing For The Planet" benefit concert will showcase master musicians from three different musical traditions, with all proceeds going to benefit the environmental advocacy group 350MA.org. The performers include music of the Middle East and North Africa, from master violinist Beth Bahia Cohen, the enthralling Carnatic (South Indian) vocal music of Aparna Balaji, and exquisite re-imagings of world folk song from Voci Angelica Trio. The music begins at 7:00 pm, at The Community Church Of Boston, 565 Boylston Street (Copley Square), Boston. Admission is $20; $15 students & seniors. For information, please call 781-396-0734, or visit the event website at www.warrensenders.com.
---
"…Senders possesses a gift

for assembling fascinating programs."

— Andrew Gilbert, The Boston Globe —
---
Purchase tickets online from CCNOW:

Regular admission: $20


Student/Senior Admission: $15

PLEASE NOTE THAT CCNOW PURCHASES WILL NOT BE PROCESSED AFTER 4 PM TODAY.  JUST COME ON DOWN TO THE SHOW!
If you prefer to use PayPal, please use the link below:
---
"Playing For The Planet: World Music Against Climate Change" is the thirteenth concert in an ongoing series of cross-cultural events produced by Boston-area musician and environmental activist Warren Senders. These concerts were conceived as a way for creative musicians to contribute to the urgent struggle against global warming. Their choice of beneficiary, 350MA.org, is focused on building global consensus on reduction of atmospheric CO2 levels — action which climatologists agree is necessary to avoid catastrophic outcomes.
Because the climate problem recognizes no national boundaries, the artists represent musical styles from three different parts of the globe, and share key musical values: listening, honesty, creativity, and respect. And, of course, they are all committed to raising awareness of the potentially devastating effects of global warming. It'll be an incredible evening of powerful music — from some of the finest musicians in New England and the world.
---
"…pleasant surprises and stimulation
of the aesthetic synapses…
…an open-ended, floating, world music festival…"
— Steve Elman, ArtsFuse —
---
---
ABOUT THE ARTISTS
---
hails from a musical lineage, and this legacy is complemented by her dedication and sincerity towards the art. She has been actively promoting Carnatic music through Abhyaas, since 2001.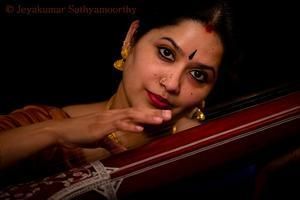 Aparna's early music training started under the tutelage of her grandfather Acharya Choodamani Shri O.V Subrahmaniam, and continued under Isai Peroli Vidwan and Shri Neyveli R. Santhanagopalan. She continues to advance her music repertoire, learning from senior vidwans, including her own father Sangeetha Choodamani Vidwan Shri. O.S. Thiagarajan, and contemporary musicians like Kalai Mamani Shri. O.S.Arun.
A firm believer of giving back to the music community, Aparna has been an active and much sought-after performer for the past twelve years. Concerts, playback tracks and music albums featuring Aparna bear testimony to this.

---
is of Syrian Jewish and Russian Jewish descent and has spent many years exploring the ways the violin and other bowed string instruments are played in Greece, Turkey, Hungary, and the Middle East. She plays several Greek lyras, the Turkish bowed tanbur and kabak kemane, the Egyptian rababa, the Norwegian hardanger fiddle, and more. She was a Radcliffe Bunting Fellow and has been the recipient of many travel and research grants, including an NEA/Artists International grant to study the classical music of Turkey.
In addition to performing throughout the U.S., she teaches workshops and ensembles on Middle Eastern, Eastern European, Greek and Turkish music in conservatories and universities throughout the U.S as well as teaching privately in her studio in Watertown. She performs solo concerts of traditional and original music on various bowed string instruments from many countries (The Art of the Bow), as well as concerts exploring traditional Jewish music from all over the world.
---
Re-imagining the boundaries of traditional folk music and classical chamber ensembles, Voci Angelica Trio's riveting arrangements of global songs from every continent leave audiences mesmerized. Shimmering vocal harmonies intertwine with lush cello lines and percussion to create a musical fusion that transcends cultural divisions.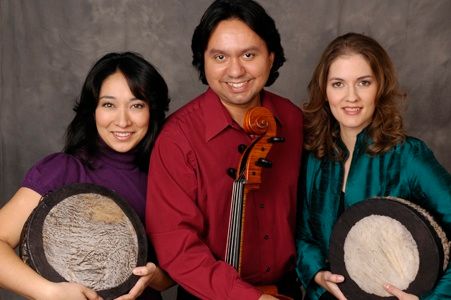 What started as a side project building on its members' diverse ethnic backgrounds has become a musical mission. More than just a performance group, Voci Angelica Trio promotes the humanitarian goals of social justice and cultural understanding. "We believe that one of the best ways to pursue peace is to sing one another's songs," says Jodi Hitzhusen. Meena Malik adds, "We see ourselves as musical ambassadors, using our performances to raise public awareness of diverse cultures and the issues they face." Voci Angelica's mission has led to America's East Coast, Midwest and Southern regions; Canada; & Japan. In October 2016, the trio will return to Japan and expand its tour to reach to South Korea.
The name "Voci Angelica" is a mix of romance languages and Latin, just as the trio explores and blends the music of many cultures. It roughly translates to mean "voices of angels." Aristides Rivas concludes, "Music goes beyond language, religion, and politics. It connects us to our humanity."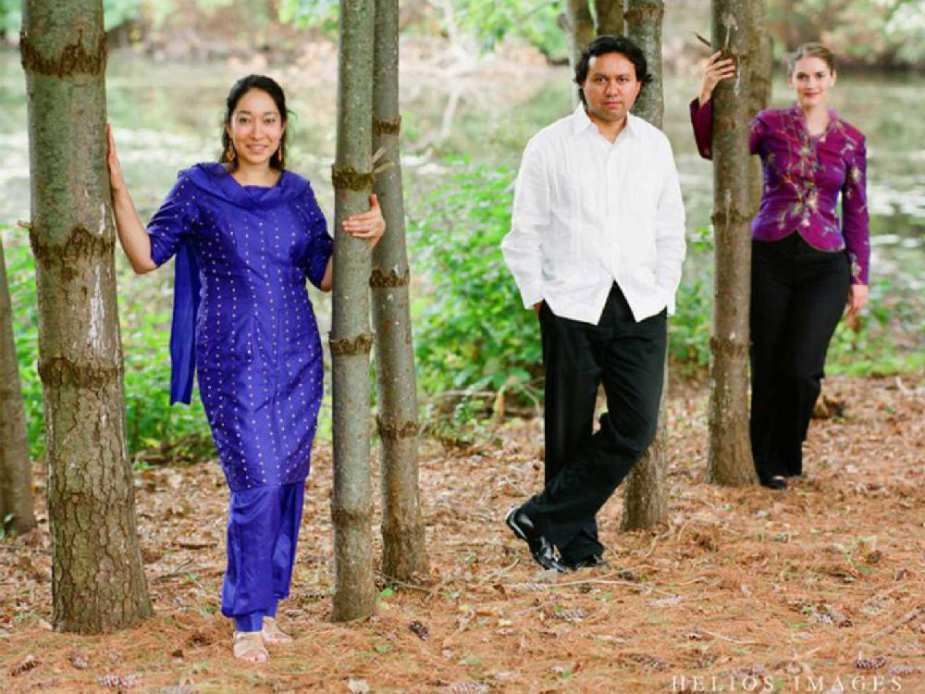 Members:
Jodi Hitzhusen, voice/percussion
Meena Malik, voice/percussion
Aristides Rivas, cello
---
About 350.org and 350MA.org
Co-founded by environmentalist and author Bill McKibben, 350.org is the hub of a worldwide network of over two hundred environmental organizations, all with a common target: persuading the world's countries to unite in an effort to reduce global levels of atmospheric carbon dioxide to 350 parts per million or less. Climatologist Dr. James Hansen says, "If humanity wishes to preserve a planet similar to that on which civilization developed and to which life on Earth is adapted, paleoclimate evidence and ongoing climate change suggest that CO2 will need to be reduced from its current 400 ppm to at most 350 ppm." (Dr. Hansen headed the NASA Institute for Space Studies in New York City, and is best known for his testimony on climate change to congressional committees in the 1980s that helped raise broad awareness of the global warming issue.) Activists involved in the 350 movement include Rajendra Pachauri (Chairman, Intergovernmental Panel on Climate Change), Vandana Shiva (world-renowned environmental leader and thinker), Archbishop Desmond Tutu (1984 winner of the Nobel Peace Prize and a global activist on issues pertaining to democracy, freedom and human rights), Van Jones, Bianca Jagger, Barbara Kingsolver and many more.
350MA.org is the Massachusetts Chapter of this worldwide advocacy group, and the hub for the Better Future Project.
---
The Community Church of Boston is a free community united for the study and practice of universal religion, seeking to apply ethical ideals to individual life and the democratic and cooperative principle to all forms of social and economic life. We invite you to read on to discover more about us, join us one Sunday for a thought-provoking and joyful time, or contact the church to find out more about our community: info@communitychurchofboston.org
---
Purchase tickets online from CCNOW:

Regular admission: $20


Student/Senior Admission: $15
If you prefer to use PayPal, please use the link below:
---
8 Feb 2013, 4:24am
Education environment: 350.org divestment economics Keystone XL responsibility
by
Warren
leave a comment
Meta
The Chronicle of Higher Education notes that fossil-fuel divestment turns out to hold little or no liability for college endowments:
College-endowment managers who resist the growing call to divest their holdings in fossil-fuel companies may be doing so for little or no financial reason, according to a new report.

An analysis released on Tuesday by the Aperio Group, an investment-management firm that offers its clients a "socially responsible index," among other investment strategies, found that while divesting from fossil-fuel companies does not necessarily add value to a portfolio, it does not subtract value from it either, and it increases the risk to investors at such a modest level as to be negligible.

In recent months, student groups at more than 200 colleges across the country have begun pushing their institutions to divest from fossil-fuel companies. A handful of smaller institutions, including Unity College and Hampshire College, have recently adopted strategies to reduce their investments in such companies, but most colleges have responded warily to the notion.

No doubt part of that wariness is that fossil-fuel companies are viewed as reliable profit generators, and divesting from them is seen as a financial handicap, even less attractive at a time when endowments have struggled because of the recession.
Because we won't be responsible if it costs us anything. Sent January 31:
While it's encouraging to know that college endowments aren't likely to suffer from shedding fossil-fuel investments, divestment would be a good idea regardless of its economic impacts on university portfolios. The business model of big oil and coal companies is profoundly destructive, relying as it does on reintroducing millions of years' worth of fossilized carbon into the atmosphere each year in a geological eyeblink, without regard for the climatic consequences.

While "bottom-line" rationales are popular and convenient, we must remember that one of the deepest goals of higher education is the inculcation of a broad sense of responsibility to and for the greater social good. We do not teach subjects; we teach human beings — and the quality of our teaching is reflected in our students' commitment to a better future.

And there is no surer guarantee of a worse future than continued support of fossil fuels. They may be hugely profitable, but fossil fuel corporations epitomize an irresponsible disregard for our shared Earthly heritage and the continued happiness and prosperity of our descendants, and colleges and universities investing in them are abdicating their institutional responsibilities to our common posterity.

Warren Senders